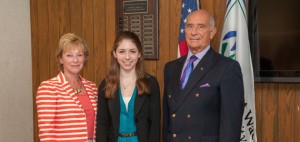 Jillian Johnson, a 17-year-old Liberal Arts and Sciences major,  has been appointed to Mount Wachusett Community College's Board of Trustees.
A dual enrolled student through the Pathways Early College Innovation School, Johnson was sworn in as student trustee on August 8 and attended her first meeting that afternoon. As student trustee, she serves as a full voting member on the 11-member board. She was elected to the one-year position by MWCC students this past spring after previously serving on the Student Government Association.
"I like being part of a team and I like being involved," she said. "The trustees seemed like something that fit my interests. I like communicating with people and helping fellow students."
An accomplished pianist who was primarily home-schooled, Johnson enrolled at MWCC in fall 2012 to get a jump start on her college education. The Pathways school, formed in partnership with the Ralph C. Mahar Regional School District in 2010, was one of the state's first two innovation schools established under new legislation and allows motivated high school juniors to simultaneously earn their high school diploma and an associate degree.
With a keen interest in math and science, she decided upon her career goal by age 13 – to be an orthodontist. After graduating from MWCC in May 2014, she plans to continue on for a bachelor's degree, followed by dental school and an orthodontic residency.
"My high school experience was good. I was involved in sports and a ton of clubs and activities. But I knew where I was going and wanted to get a head start because I have a lot of years of school ahead of me."
Johnson, who works as an active treatment assistant at Seven Hills Pediatric Center in Groton, was joined at the swearing in ceremony by her parents, Eric and Julie Johnson; her grandparents, James and Janet Schmidt; MWCC President Daniel M. Asquino; Board Chair Tina Sbrega; and officials from the college's Division of Access & Transition, which oversees the Pathways school.
"We are very proud and delighted to have Miss Johnson join the Board of Trustees," said President Asquino. "The Pathways Early College Innovation School, which charts a new academic route for teenagers seeking a college education, has become a model program in Massachusetts and in the country. And one of the primary reasons for its success is the caliber of highly motivated, enterprising students it attracts; students like Jillian Johnson who are eager to share their time and talents with their college community."