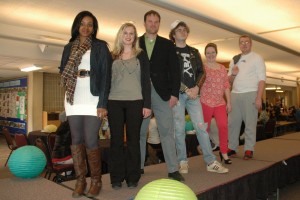 Students and area employers are gearing up for MWCC's annual job fair, which will take place Wednesday, April 2 in the Commons. The event is open to MWCC students from 10 to 11:30 a.m., and to students and the general public from 11:30 a.m. to 1 p.m. Attendees are encouraged to dress for success and bring their resumes.
The MWCC Job Fair is an annual event on-campus that is growing in popularity each year as evidenced by the increased attendance of participating employers, students, and community members, said Patricia Brewerton, Coordinator of Career Planning and Placement.
MWCC students attended workshops throughout the spring semester focusing on resume writing skills, dressing for success, and developing soft skills that are critical to the interview process. To showcase the upcoming job fair, student John Day organized a boisterous career fashion show on March 25. The fashion extravaganza featured students dressed in appropriate and inappropriate attire for the workplace.
A wide range of local employers offering job opportunities in a number of growth oriented fields will be in attendance, including human services, criminal justice, business, retail, and the STEM fields of science, technology, engineering and math.