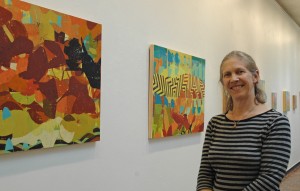 "Camouflage," an exhibit of 28 paintings by artist Joyce Conlon, an adjunct instructor of art at MWCC, is on display through Nov. 21 in the East Wing Gallery of the Raymond M. LaFontaine Fine Arts Center.
"Like a shadow cast or an image reflected on water, my work involves the transformation of form on a surface. I locate my work within the tradition of modern American landscape artists and others like Thomas Nozkowski who have been inspired by nature and its intersection with culture," Ms. Conlon writes in her artist's statement.
The series, Fence, began with a walk in the woods, where she came across a neglected antique wire fence. "I was and continue to be struck by the sculptural beauty of the forms that were once so similar and now bend and distort. The fence, that had stood straight and determined to mark the boundary between one side and another, sporadically recalls its former shape and purpose. Like many artists, I attempt to represent my subjective experience. As with the fence, I am affected by change both short and long term. Working with acrylics on board, I begin work by seeing and creating pattern as an organizing principle. I am interested in disrupting and reasserting connections with pattern and scale."
A resident of Amherst, Ms. Conlon's work has been on exhibit throughout New England and overseas. She earned a bachelor's degree in art from Pratt Institute, a master's degree in anthropology from the University of Massachusetts, and a master of fine art degree from the Hartford Art School. An instructor at MWCC since 2010, she teaches Introduction to Drawing and Introduction to Painting.
Regular gallery hours are Monday through Friday from 8 a.m. to 5 p.m. The gallery will be closed on Nov. 12 in observance of Veterans Day.