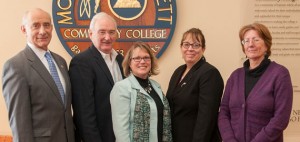 Mount Wachusett Community College President Daniel M. Asquino has announced the appointment of the leadership team that will oversee a multi-state, $15.9 million project funded by the U.S. Department of Labor to expand career opportunities in advanced manufacturing.
In September, the D.O.L  awarded $475 million in Trade Adjustment Assistance Community College and Career Training (TAACCCT) grants to community colleges and universities around the country for the development and expansion of innovative training programs in partnership with local employers. The grants are part of a multi-year, $2 billion initiative to expand targeted training programs for unemployed workers.
MWCC, as the lead institution, and its partners Southwest Tennessee Community College, North Central State College in Ohio, and Bossier Parish Community College in Louisiana, received funding to create the Advanced Manufacturing, Mechatronics, and Quality Consortium to help job seekers quickly obtain training and credentials in the advanced manufacturing fields of Mechatronics and Quality career pathways.
Kathleen M. Kirby, Ph.D., who most recently served as executive director of CONNECT, a consortium of public colleges and universities in Southeastern Massachusetts, has been appointed national consortium project manager. Julie Crowley, who has worked in MWCC's Division of Life Long Learning and Workforce Development for over 15 years, most recently as director of the college's Devens campus, has been appointed regional consortium project manager.
Jacqueline Belrose, MWCC's Vice President of Lifelong Learning and Workforce Development, will serve in the lead role as the project's national director. Business executive Dennis R. Bunnell will serve as the project's industry consultant and will chair its Advanced Manufacturing Advisory Board.
As executive director of CONNECT, a consortium of public colleges and universities in Southeastern Massachusetts, Kirby worked to bring curriculum into alignment with industry needs in Life Sciences, Manufacturing, and Health Care by bringing higher education leaders together with CEOs in industry and workforce. In this capacity, she developed a plan for a $5 million education and training center in Taunton, funded by the Massachusetts Life Sciences Center.
Kirby also brings significant experience in grants management and program development. She previously served as director of the grants office at Bridgewater State University and as manager of foundation support for NH Public Television, a division of the University of New Hampshire. She earned a Ph.D. in Modern Studies and a master's degree in English from the University of Wisconsin Milwaukee, and a bachelor's degree in English and Art from Syracuse University.
Crowley joined MWCC in 1996 as a coordinator of adult basic education services at the Devens site, and went on to oversee adult basic education literacy programs in Devens, Leominster, Gardner and Fitchburg. She was appointed director of the Devens campus in 2006 to oversee credit and non-credit programming.
As a non-traditional student, she is keenly aware of the challenges and barriers facing students today and is passionate about developing strategies to help students overcome challenges and build a better future for themselves, their families and their communities.
Crowley earned a bachelor's degree in Business Administration from the University of Massachusetts, Amherst and is currently pursuing her MBA in management. She serves on the executive board of the Nashoba Valley Chamber of Commerce and participates actively in chamber events across the region.
Bunnell has held senior management positions in finance, human resources, strategic planning, sales, marketing, and operations for major paper manufacturers. He has extensive international executive experience serving on global management leadership teams for multinational, European-based manufacturing companies while directing their North American operations.
Bunnell was the president and CEO of Munksjö Paper in Fitchburg for nine years before leaving to re-start an idled paper manufacturing company in New York State at the request of NYS's Empire Development Corp.
While in Fitchburg, he was active in the community, participating in regional development initiatives including serving on the board of directors of the North Central Massachusetts Chamber of Commerce and serving as a trustee of the Fitchburg Art Museum. He facilitated a Manufacturing CEO Roundtable for seven years, and was a founding member of the CEO Club of Boston. He  previously served on Gov. Mitt Romney's Regional Competitiveness Council for Central Massachusetts. He earned a B.A. in Economics from Otterbein College and a J.D. from Fordham University School of Law.