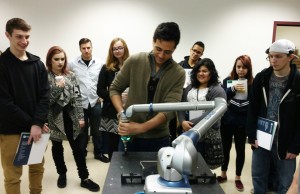 Dozens of seniors from Leominster High School and the LHS Center for Technical Education Innovation explored career options in the science, technology, engineering and mathematics (STEM) fields during a STEM College Day at Mount Wachusett Community College's Devens campus.
More than 60 students who participate in the Math Modeling program at the schools attended the half-day event, which included demonstrations and hands-on activities ranging from capturing their own DNA to 3D printing, mechatronics, quality assurance and quality control.
"The Math Modeling Program has meant so much for our students," said CTEi Director David Fiandaca. "For many years we struggled with our students not being prepared to do college math upon graduation from CTEi. We were actually contemplating a software program to help students improve their test scores on the Accuplacer Test. Then, we had an opportunity to collaborate with folks from MWCC, shared our concerns with them, and began to investigate how we could work together to solve this problem."
"The rest is history. We could not be more grateful for the efforts of both faculties at MWCC and LHS/CTEi for the tremendous success of the Math Modeling program. A much greater percentage of our students are now able to begin their college course work with the math skills that enable them to be successful with college level math," Fiandaca said. "This helps to keep our students in school and moving forward to a successful attainment of a college degree."
"Mount Wachusett Community College, Leominster High School and Leominster Center for Technical Education Innovation have formed a wonderful collaboration to develop the Math Modeling programs," said Christine Davis, MWCC STEM Starter Academy recruiter. "The goal of Math Modeling is to ensure that seniors in high school are college and career ready in mathematics. As part of their math studies, we expose them to the hands-on applications of what they are learning in class. MWCC's Devens campus is the ideal place to showcase this."
Math Modeling was developed by faculty and staff from MWCC and Leominster Public Schools in 2013. The program expanded the following year to include seniors at Fitchburg High School and Montachusett Regional Vocational Technical High School. The Math Modeling cohort now exceeds 500 students with the addition of seniors at Gardner, Athol and Murdock high schools.
"Seeing the opportunities what each class has to offer – all of it can help me with deciding on a major," said Zach Oldham, a senior at LHS/CTEi. "I like the DNA necklaces experiment. Seeing what makes 'you' is pretty cool."