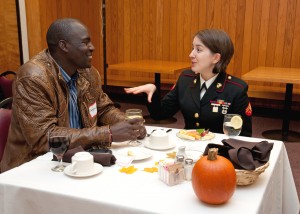 A growing number of colleges and affiliated groups are venturing beyond campus borders to try to bridge the military-civilian gap and so is MWCC's Veterans Group. The Veterans Group, a student club on campus, organized a raffle in October for 12 of its members to share a one-on-one catered lunch with civilian students, faculty and staff members.
 The luncheon, held Nov. 1 and funded by the club, provided an opportunity to educate civilians on military experience to enhance awareness and understanding throughout the MWCC community. Participating veterans and active service members included Andrew Brunell, U.S. Marine Corps, who co-chairs the Veterans Group with Andrew Contact, USMC; Lisa Bentley, U.S. Air Force; Rebecca Gilbert, USMC; Bryan Sanderson, USMC; Nick Guthmiller, USMC; James Colbert, USMC; Jason Lopez, Navy; Bill Blais, USMC; Craig Phelps, USMC; Kerry Rolens, Army and Army National Guard; Nick Bonfilio, USMC; and Raymond Greeno, Army. In addition, MWCC student and Army veteran William Rivera volunteered to photograph the event.
Students, faculty and staff members who participated in the luncheon included Sarah Lanagan, Andres Figueroa, Festus Kiprono, John Reilly, Ben Gawlik, Bob Labonte, Jacqueline Richard, Angel Toro Perez, Steve Washkevich, Jessica Wolf, Becky Cote and Ai Co Abercrombie. 
"This is a way of breaking down barriers that sometimes exist between military and civilians. It's a great opportunity for students, faculty, and staff to get to know each other and discuss openly their experiences," said Kristine Larkin, who oversees MWCC's Center of Excellence for Veteran Student Success.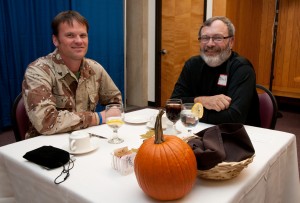 Professor Reilly said he was interested in entering the raffle to show his support for MWCC's student veterans, as well as veterans of all generations, a sentiment that was echoed by the other civilian participants. "I think by and large veterans are not recognized enough. They're putting their lives at risk to protect our freedom and it's not recognized enough. It should be," said Professor Reilly, who shared the meal with Bryan Sanderson, a Human Services major.
Mr. Sanderson, said the event and other programs and activities sponsored by the student veterans club and the Center of Excellence for Veteran Student Success are enhancing understanding and awareness of issues many veterans face when transitioning into college. "This is another step toward getting to know each other, a way to share experiences and learn from each other," he said.
Student Jessica Wolf, who dined with active military member Kerry Rolens, a Criminal Justice major, said she wanted to show her support for the college's veterans. "I was a military brat, both my parents were in the military and my grandfather was a prisoner of war during World War II," she said.
Navy veteran Jason Lopez, a pre-engineering major, dined with Jacqueline Richard, who is a classmate of his wife, Shiann Lopez, in the Natural Resources program.
"This is a good way for the veterans to tell our story," he said.