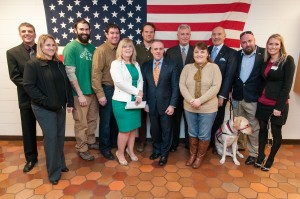 Massachusetts Secretary of Education Matthew Malone and Secretary of Veterans' Services Coleman Nee paid a visit to MWCC on January 15 to discuss the college's thriving Veterans Success Center and how to replicate it at public colleges and universities throughout the state.
The two officials met with President Daniel M. Asquino, MWCC Veteran Services Director Kristine Larkin, student veterans, community partners and others, and praised  the center as an exemplary model to assist veterans transitioning to college.
"We came out here very purpose-oriented," Secretary Malone said. "We are looking at the Veterans Success Center and talking about key characteristics that must be in place in order to provide these types of services. What we are looking at is replication across the Commonwealth. We want to see a bunker on every campus, based on what we're seeing here. We're very interested in putting together a set of recommendations based on best practices, and Mount Wachusett is, in my opinion, is the best in this work in the Commonwealth."
In 2010, MWCC was one of 15 colleges in the country selected to establish a Center of Excellence for Veteran Student Success through a Fund for the Improvement of Postsecondary Education (FIPSE) grant from the U.S. Department of Education. Serving as national models, the centers were created to help ease the transition to college life for veterans and their families, as well as to provide ongoing support for current active members of the military and their families. The center addresses the unique academic, financial, physical and social needs of veterans transitioning to college.
The three-year, $400,000 grant ended last fall, and MWCC has now fully incorporated the center into its campus operations. While MWCC has a long history of serving veterans, the new success center has become a hub of activity on campus and an integral part of the college's culture, President Asquino said.
Secretary Nee noted that Massachusetts leads the nation in terms of providing veteran services on the federal, state, community and nonprofit levels. Yet the challenge remains in helping veterans and service members navigate that "very complex" benefits field.
Peer support and mentoring is a key component of the veterans center's success, as well as the college's recognition of veterans as an important population, he said. Veterans "add to a rich academic environment and they contribute to the college in ways that are highly beneficial, not just to fellow vets but to the entire student body and the faculty."
Secretary Malone praised the college as "one of the most innovative public higher education institutions in the Commonwealth. In addition to its successful veterans center, the college is recognized for its groundbreaking endeavors in the areas of early college high school, access and transition programs for K-12 students; green energy, and advanced manufacturing, he said.
Mount Wachusett is "one of the most innovative public higher education institutions in the Commonwealth," Malone said, noting the college's early college high school, gateway programs, advanced manufacturing partnerships with industry and sustainable energy initiatives.
"You think about cool stuff happening in education, it's happening at Mount Wachusett Community College. The goal always at Mount Wachusett is closing gaps and increasing opportunities. That's what they do well. And it's a unique part of the state. North Central Massachusetts has a great sense of collaboration, purpose and partnerships."