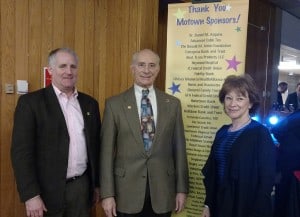 With toes tapping and fingers snapping, an audience of nearly 500 grooved to the soulful songs of the Motown era during a benefit performance Friday, Jan. 22 that raised more than $100,000 to support student scholarships and youth programs in the region.
The "Magic of Motown at the Mount" benefit, co-sponsored by the Mount Wachusett Community College Foundation and the Boys & Girls Club of Fitchburg and Leominster, took place in the college's newly renovated Theatre at the Mount.
The five-person cast of singers and dancers recreated the harmonies, dance moves, stylish looks and legendary musicianship of the era, including the hits Stevie Wonder, The Jackson Five, The Four Tops, The Temptations, Marvin Gaye, Smokey Robinson & the Miracles, the Isley Brothers and others.
"It was heartening to see so many people enjoying an evening of fantastic entertainment while supporting our college students and area youth," said MWCC President Daniel M. Asquino.
Established in 1971, the MWCC Foundation now offers 38 scholarships for continuing students and transfer students pursuing certificates and degrees in a wide range of academic disciplines. More than $260,000 is awarded to students annually.
The Boys & Girls Club of Fitchburg and Leominster has worked in youth development since 2001. A STEAM- (science, technology, engineering, art and math) focused club, it serves young people ages 8 to 18 from many economic, social and family circumstances.
"We are truly grateful to Mount Wachusett Community College, President Asquino and Theatre at the Mount for coordinating another spectacular community event," said Donata Martin, executive director of the Boys & Girls Club. "The music was superb and the community's support for our organization is so greatly appreciated."
Event sponsors were Dr. Daniel Asquino and Alberta DelPrete; Advanced Cable Ties, The Ronald M. Ansin Foundation, Enterprise Bank; Heat Trace Products, LLC; Heywood Hospital; IC Federal Credit Union; Fidelity Bank; UMass Memorial HealthAlliance Hospital; Bemis and Associates; Clementi Family Trust; GFA Federal Credit Union; Hometown Bank; Workers' Credit Union; Rollstone Bank & Trust; Medical Associates Pediatrics; Geosearch Inc.; Leominster Credit Union; Montachusett Regional Vocational Technical School; North Middlesex Savings Bank; Royal Steam Heater Co.;
Shawmut Design & Construction; Simonds International; Tyco SimplexGrinnell; Anderson, Bagley and Mayo Insurance; Scot and Janice Barrett; Dunkin Donuts KCMC Management; Fitchburg State University; Molds International & Consulting Co. Inc; Mr. and Mrs. Marcus Moran, Jr.; Zottoli Family Trust; Avidia Bank; Becker College; Commonfund Securities, Inc.; Geronimo Properties; GVNA HealthCare, Inc.; Raymond and Susan Martino; W.E. Aubuchon Foundation; and media sponsor the Sentinel & Enterprise.