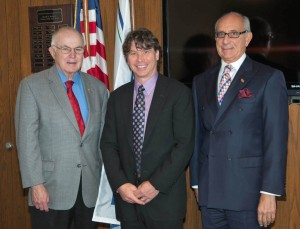 Mark Shirman, president and chief executive officer of Westford-based RiverMeadow Software, Inc., has been appointed to the Board of Trustees at Mount Wachusett Community College.
"Mr. Shirman's business acumen and entrepreneurial success in the field of Information Technology will be a tremendous asset to the college and the greater community as we continue our mission of providing students with access to affordable, quality education and expanding economic development opportunities in our region," said MWCC President Daniel M. Asquino.
At RiverMeadow Software, Mr. Shirman leads a team that develops cloud migration and disaster recovery software for the cloud service provider market. He has nearly 30 years of entrepreneurial experience in the IT services arena, including 10 years as founder and CEO of GlassHouse Technologies in Framingham. At GlassHouse he was responsible for building upon the company's leadership in the storage solutions space, managing the investment community, and setting the vision for the company's solutions development.
Mr. Shirman said he was interested in serving on the board to "support a community institution I strongly believe in" and leverage his business experience. "I understand major technology shifts that are taking place in the market that will represent opportunities and careers for people for many years, as opposed to a one-year phenomenon."
Mr. Shirman previously served as executive vice president of corporate development and CTO at Convergent Group in Englewood, Colo., where he executed a combination of operational and marketing strategies that resulted in a successful public offering and the subsequent sale of the business to Schlumberger Corporation. Among his other professional experience, he was responsible for the worldwide eBusiness and CRM lines of business for Cambridge Technology Partners and previously ran similar units for BSG/Alliance IT in Austin, Texas. In 1985, he launched a new breed IT consulting company called Innovative Information Systems Inc. (IISI), which was focused on emerging technologies and application development. He served as CEO of IISI until its sale to CDI Corporation in 1990, where he then served as president until 1995.
He started his career with Arthur Andersen & Co. after receiving his bachelor's degree in economics from Brandeis University and his MBA from American University, where he is a frequent guest lecturer. He served on the advisory board of a Massachusetts nonprofit called Baby's Breath, a model program that assists infants who are in need of a safe, caring and stable home environment. He lives with his wife Beth Quenzel Shirman in Sutton and is the father of five children.