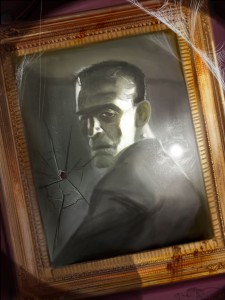 This month, the Mount Wachusett Community College Humanities Project begins its second year with "Myths, Monsters, and Modern Science: Frankenstein's Legacy," an in-depth look at Mary Shelley's 1818 novel Frankenstein, and its relevance in today's world.Throughout the year, free events will take place at the college's Gardner campus and in the community at public libraries and other venues. The MWCC Humanities Project is funded through a matching $500,000 grant the college received from the National Endowment for the Humanities to deepen and sustain quality humanities programming and curriculum throughout North Central Massachusetts.
Like many great works of science fiction, Shelley's Frankenstein, or the Modern Prometheus, explores what it means to be human in a rapidly changing world. Published nearly 200 years ago when the author was just 20 years old, the novel tells the tale about young science student Victor Frankenstein, who creates a grotesque but sentient creature in a scientific experiment.
The impact of Shelley's novel has prevailed into the modern era, spawning countless interpretations, retellings, and inspirations, yet it bears little resemblance to the Hollywood adaptions that have dominated popular culture for decades, said Professor Michelle Valois, the coordinator of the Humanities Project.
"If, when you think Frankenstein, you think only of a grotesquely disfigured giant of a man who grunts and groans, then you only know half the story," Valois said. "Though a work of the imagination, Mary Shelley's novel offers an approach to these philosophical and ethical questions: Can science go too far? What does it mean to play God? How do we tolerate difference? Who are the real monsters?"
Fall events begin with a book discussion on Shelley's Frankenstein, led by MWCC English Professors Michelle Valois, Susan Blake and Lorie Donahue, on Wednesday, Sept. 24 from 6:30 to 8 p.m. in the college's LaChance Library.
A panel presentation, "Frankenscience? The Myths and Realities of Contemporary Science," will take place Wednesday, Oct. 14 from 6:30 to 8 p.m. at the Levi Heywood Memorial Library in Gardner. Panelists include Lara Dowland, chair of MWCC's biotechnology/biomanufacturing program, and MWCC biology professors Thomas Montagno, Carrie Arnold and Heather Conn.
On Oct. 20, Fitchburg State University film and English Professor Joseph Moser will present "Monsters on the Big Screen." The lecture will take place from 12:30 to 1:30 p.m. in MWCC's North Café.
Members of the college community will participate in A Halloween Hike for the Humanities, a fundraiser for the matching NEH grant, on Saturday, Oct. 31 at Wachusett Mountain in Princeton.
Events continue on November 5 with a screening of Kenneth Branagh's Mary Shelley's Frankenstein from 12:30-2:30 p.m. in MWCC's North Cafe; a lecture "Mary Shelley: The Woman Behind the Monster," with Tufts University Professor Sonia Hofkosh on Nov. 12 from 6:30 to 8 p.m., in the Leominster Public Library; and a brown bag lunch discussion, "What Makes a Monster?" on Nov. 18 from 12:30 to 1:30 p.m. at MWCC's Gardner campus, room 345.
Spring semester events include "Historical Perspectives on Frankenstein" with Mount Holyoke Professor Robert Schwartz at MWCC's Gardner campus; a presentation at the Fitchburg Art Museum by Elizabeth Young, author of Black Frankenstein: the Making of an American Metaphor; a Monster Movie Marathon at the Leominster Public Library featuring James Whales 1931 classic Frankenstein and Kenneth Branagh's  Mary Shelley's Frankenstein; a lecture, "Girls and Their Ghost Stories: Feminism, Philosophy and Frankenstein," at the Athol Public Library; and a film screening of Mel Brooks' Young Frankenstein.
All events are free and open to the public. Registration is not required. For more information visit https://mwcc.edu/humanitiesproject.