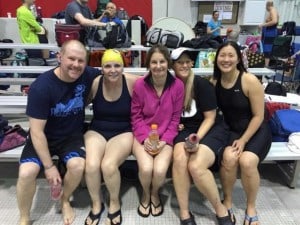 David C. Graham is the Head Coach of Greenwood Masters Swimming, a workout group in the New England Masters Swim Club. Coach Graham is a Level 3 USMS Masters Coach and has worked in the aquatics arena as a professional for the past 15 years. A native of NJ, he now calls southern NH his home and works at Mount Wachusett Community College in Gardner MA where he serves as the Aquatics Director as well as an Adjunct Faculty Member. Swimming since the age of 14, Coach Graham has been an avid supporter of masters swimming since returning to the pool 10 years ago and competes regularly at local meets as well as the past 2 USMS Spring National Championships and FINA World Masters Championships hosted in Montreal in 2014.
Why do I coach? Mama Luigi, THAT'S why!
I was sitting one weekend afternoon surfing the channels when I paused on a football press conference, hearing the questions posed to a new head coach of a college program, "Why do you coach?" Mama Luigi popped into my head instantly. THAT's why I coach.
I imagine most masters teams are made up of a myriad of swimmers, my team is no different. Ages spanning very early 20's to mid-70's, former collegiate athletes and club swimmers, fitness swimmers, triathletes, mid-life crisis folks, new comers, the labels go on and on. I have world record holders, a professional triathlete, open water enthusiasts, loafers, workout kings, meet champs, national/world qualifiers, that list goes on and on as well. Then, there is Mama Luigi, THAT's why I coach.
Her real name is Louise, most of my swimmers earn a nickname over time, instantly, or through an unforgettable experience or story, (Blenda, got his nickname for telling the team at practice he dropped the blade from his blender one morning and split the skin wide open between his toes, hence, Blenda). Louise is in her late 60's, about to crest 70 in a year or so, and has been with me since taking over the team 7 years ago. She takes care of the team in many subtle ways, hence her nickname. Like many more seasoned swimmers, she has battled through injuries and ailments, but is still ever present. Every morning, you can pretty much set your clocks by her arrival and if she is not here, she is either ill or the weather is questionable to force her to take refuge at home than risk driving/falling to be at practice, which I know disappoints her that she missed her swim. This team and this sport is her life, she does it for the comraderies, the fitness, to help with her arthritis, and for the TEAM.
Every year, our squad competes at New England SCY Championships hosted at Harvard over a 4 day period/2 weekends. While slow in her movements and strokes, she can swim them all and signs up each meet for all 13 individual events and most likely, another 4 relays at the coach's request. Louise is one of the slowest swimmers at the meet, swimming in the first heat of every event she enters. It takes her a little longer to get to her block and a wee longer to get out of the pool, but none of this ever deters her. The smile on her face when she goes just a fraction faster than the year before, or completes a new event like the first ever 200IM for her 2 seasons ago, those reactions are priceless to a coach. We also refer to her as our silent assassin at times. Even though she swims in the first heat of every race, at the end of the meet, when the medals and ribbons are handed out, and scores tabulated, every year, she pretty much finishes in the top 10 overall females in points, usually out of 400 or so females.
At the end of each season, I always find a small envelope on my desk, with a hand written note from her with many thanks and praises for the time and effort I take each season to prepare her and the team for the culminating meet at Harvard, as I sit back and read it, and think, THIS is why I coach?
This team and sport keep Louise moving, keep her smiling, keeps her arthritis at bay, and keeps her coming back for more. We don't care how fast you are, how slow you are, your PR's, the points you score, all of those things are just bonuses to the true experience. Louise is always a glow at meets and practices and she is a truly coachable swimmer who wants to improve, even at the pace she swims and age she attains each year. The crowning achievement in my coaching career will be the day Louise is the high point female at Harvard, and I have told her in my "nice" New Jersey tone, she is going to swim until such an event happens.
When people ask, "Why do I coach?" Mama Luigi! THAT's why I coach.