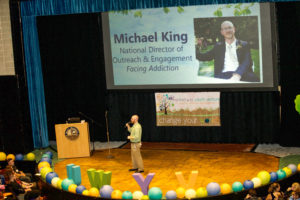 Participants in the United Way Youth Venture of North Central Massachusetts program were celebrated at the program's inspirational annual Fall Kick-Off event, held at Mount Wachusett Community College. More than 300 students assembled on the MWCC campus last Friday to learn how they can create even more change in their communities and to help recognize those in attendance who are already making a difference.
Attendees heard from keynote speaker Michael King, National Director of Outreach & Engagement, of the organization Facing Addiction. Fitchburg is one of 15 communities across the country that Facing Addiction has chosen for their pilot program that aims to address the public response to addiction through grassroots campaigns. King shared his own story of addiction and recovery, while educating students on how they can start to advocate for newer, more effective prevention programs in their schools, and work towards removing the negative stigma of addiction.
"Speaking up is the first step when it comes to addiction. So just standing up and saying this is something you want to talk about, something you want to address, is step one," King told the audience.
Participating students also attended informative and educational hands-on workshops to learn more about topics such as the stigma of mental health, using social media for their Ventures, and issues that affect their communities.
The event was also an opportunity to recognize and celebrate the accomplishments of some of the top contributors to the program over the past year. The awards recognize both adults and student Venturers who embody the image of true civic leaders who we hope will inspire others to follow in their footsteps.
The Ally of the Year award was presented to Chris LeBlanc for his work in supporting the Venture Project Blue Hands, of Murdock High School, and their goal to increase awareness around mental health. The Champion of the Year went to Francine Meigs, Champion at Samoset Middle School, for her continued and committed support of Youth Venture students and the program over the span of several years, as both Champion and Ally. Changemakers of the Year was awarded to the Venture Team Holiday Spreaders of Leominster High School & CTEi for their efforts in raising money and awareness for Alzheimer's Disease and their monthly visits to Alzheimer's patients at Leominster Crossing. The Emerging Leaders in High School award was given to Karate for Kids from Fitchburg High School whose mission is to create scholarships for children to enroll in a karate program. The Emerging Leaders in Middle School went to HOTC (Helping Out the Community) from Sky View Middle School for achieving their goal of bringing recycling to Allencrest Community Center and Apartment Complex.
United Way Youth Venture of North Central Massachusetts was established in 2002 when the United Way of North Central Massachusetts, Mount Wachusett Community College and Ashoka's Youth Venture partnered to help schools integrate youth-based social ventures into their curriculum, afterschool activities and special events. UWYV is independently funded and relies on community support to continue.
To learn more about United Way Youth Venture and how to become involved, people can visit mwcc.edu/uwyv. If people would like to support the UWYV program, they can become a sponsor or donor by contacting UWYV Director Lauren Mountain at 978-630-9201.