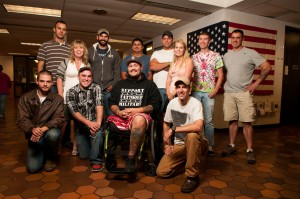 Mount Wachusett Community College has earned national recognition for its support for veterans from several military-focused organizations over the past several years. On Veterans Day, Military Times again named MWCC to its Best for Vets: Colleges 2014 rankings.
Best for Vets provides service men and women a gauge by which to judge whether a school or degree program will truly benefit them. The rankings factored in service member enrollment, percentage of tuition covered by the GI Bill, and availability of specific programs to help service members. The organization placed a new emphasis on academic rigor this year when conducting and scoring the fourth annual Best for Vets: Colleges survey, a 150-question analysis of a school's complete offerings for veterans.
MWCC was ranked fourth nationally for two-year schools. The full rankings include 120 four-year, two-year, online and nontraditional schools. The top schools in each category are being showcased in the November issue of Military Times EDGE magazine, the premier publication for military transition, and affiliated Gannet Company publications and websites, including USA Today and the newsweeklies Military Times, Army Times, Navy Times. Air Force Times and Marine Corps Times.
"Mount Wachusett Community College has a long history of serving veterans, and we're delighted to be recognized for our commitment to those who courageously serve our country," said President Daniel M. Asquino. "In recent years, we have enhanced our services through our Center of Excellence for Veteran Student Success, which is helping veteran students and their dependents transition to college life and receive ongoing support."
The Center of Excellence for Veteran Student Success, initially established in 2010 through a three-year grant from the U.S. Department of Education, has helped MWCC create a culture of positive energy and enthusiasm for its military students, said Director Kristine Larkin. The center was among the first 15 in the county selected to serve as national models and has become a staple in the lives of student veterans at MWCC and a hub of activity on campus. Support services address the unique academic, financial, social and physical needs to veterans transitioning to college life.
Collaborating with nonprofit community partners and building strong relationships with student veterans are contributing to the center's success in serving students, Larkin said. Community partners include the Montachusett Veteran Outreach Center, the Northeast Veteran Training & Rehabilitation Center operated by Veteran Homestead, Inc., the Massachusetts Department of Veterans Services' SAVE program, and local posts of the Veterans of Foreign Wars and the American Legion.
MWCC is a designated Yellow Ribbon School by the U.S. Department of Veteran Affairs. In addition, the college developed a First year Experience course designed specifically for veterans and many of the students are active in the veterans club on campus, which is affiliated with Student Veterans of America.