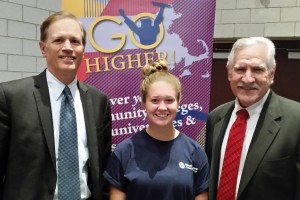 FITCHBURG — Montachusett Regional Vocational Technical School has been selected to serve as the kickoff school to launch the state Department of Higher Education's new campaign to promote student access and awareness of opportunities within the state's system of public colleges and universities.
In making the announcement, Dr. Sheila M. Harrity, Monty Tech Superintendent-Director, said school officials "were thrilled and honored" to be selected as the kickoff school for the state's newly established educational advancement campaign, known as "Go Higher!"
"The new initiative, launched recently by the Baker-Polito administration, will consist of a slate of events for high school students, and a new website to help students prepare for college and career choices after high school," Dr. Harrity stated.
"We are particularly excited to have Massachusetts Higher Education Com­missioner Carlos Santiago on hand here at Monty Tech to personally roll out this exciting, new program." The first of a series of 17 high-school visits will was held at Monty Tech on Thursday, Sept. 24, with an assembly for seniors.
Students from five of the state's public two- and four-year colleges and universities spoke to the Monty Tech seniors about their personal experiences as college students. Topics covered include selecting a college and a major, adjusting to campus life, and preparing for careers through internships and research opportunities. It is estimated a total of 8,000 high-school seniors from throughout the state will be participating in the assembly program.
Kaila Lundgren, a Pre-Healthcare Academy student at Mount Wachusett Community College, shared the stage with Massachusetts Secretary of Education Jim Peyser and Commissioner of Higher Education Carlos Santiago during the event. Lundgren, a 2015 graduate of Ralph C. Mahar Regional High School, told an assembly of 350 seniors that she was inspired to become a registered nurse to help her 7-year-old brother, who lives courageously with a rare, chronic kidney stone disease called cystinuria, and by her mother, who became an RN after studying at one of Massachusetts' community college while raising a family of five children.
One of six student speakers, Lundgren said she chose MWCC because of its fast-track option into the college's nursing program through its Pre-Healthcare Academy. Following a year of earning good grades in co-requisite courses, including anatomy & physiology, psychology and statistics, she and other academy students are immediately accepted into the healthcare program of their choice at MWCC. In less than three years, she will be graduating with her nursing degree and practicing in a field she loves, she said.
According to a press release prepared by the Department of Higher Education, the initiative and new website will also provide students with access to dual enrollment courses, honors programs, transfer opportunities and financial aid information.
"We are looking forward to welcoming college students to Monty Tech," Dr. Harrity added. "Creating this kind of student-to-student exchange allows our seniors to hear honest testimonials from students who are navigating the complexities of college life and are succeeding. It is a powerful combination of information and inspiration to help our kids get ready for life after high school," she added.
Victoria Zarozinski, Monty Tech's Director of Student Support Services, noted that the assembly was held on the same day as Monty Tech's annual College and Career Fair. "This is great timing for our seniors. Having this rare opportunity to hear firsthand how to navigate the often-confusing and sometimes-challenging college selection and experience, will enable them to ask informed questions and make sound decisions about their futures."
Earlier this year, Gov. Charlie Baker appointed Dr. Harrity to the Massachusetts Board of Higher Education. She was sworn in last spring by Lt. Gov. Karen Polito at a ceremony at the Statehouse.