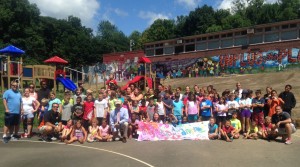 Over a decade ago, Mount Wachusett Community College's Summer UP program began to provide safe, summertime activities and employment opportunities to area youth. Since then, thousands of children and teenagers in area cities have benefited from the program.
Now completing its 11th season, Summer Up is a college/community partnership in Gardner, Fitchburg, and Leominster administrated by MWCC's Division of Access and Transitions.
Recently, MWCC President Daniel M. Asquino joined Gardner Mayor Mark Hawke and Business Administrator for the Gardner Public Schools Chris Casavant at the Jackson Playground site to meet participants and celebrate the program's success.
"Summer UP is a great program," said President Asquino. "The best part of the program is it's not just recreation. The older kids get to develop leadership skills and earn money."
Mayor Hawke spent a portion of the visit playing basketball with the children. "Every year it's bigger and better, especially with the new playground and the mural created by the Mount students. I haven't seen this many kids down here in years, and it's why we partner with the Mount," he said.
Mr. Casavant said the program fills a huge need in the community. "We are constantly looking for ways to keep students engaged during the summer months. This is a fantastic opportunity for these kids."
The sites this year include Jackson Playground and Olde English Village in Gardner, Coolidge Park, Parkhill Park, and Lowe Park in Fitchburg, and Allencrest Community Center in Leominster, which is combined with the Spanish American Center.
Each Summer UP site is staffed by two to three adult supervisors, five to six high school students, and eight middle school students. This year more than 90 student workers, approximately a dozen adult supervisors and several hundred elementary school students are participating at the park sites, said Christina Gonzalez, Community Partnership Manager for MWCC's division of Access and Transition, who is in her second year overseeing Summer UP.
Middle and high school students complete 20 hours of training through the Commonwealth Corps' Signal to Success Program, which teaches communication, leadership and employment skills, while younger children enhance social skills though day-to-day interaction in the group setting. On Fridays, the youth workers participate in educational field trips.
Monique Barbosa, who will enter Gardner High School this year as an eighth grader, began attending Summer UP since she was 7, and is now one of the program's youth workers. X-zavior Ducos, who will be entering the ninth grade this fall, is in his second year as a youth worker. "It's great. What's not to like about it?" Ducos said. "You get to play with the kids and go on field trips. The training was fun, too."
– Katherine Best