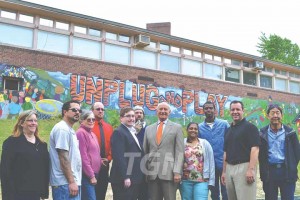 When the city asked a group of Mount Wachusett Community College students to paint a mural at the recently renovated Jackson Playground, they were hoping to cover up the existing graffiti on a wall and prevent more.
At the official unveiling, officials realized they had received more than they asked for.
"It's given life to this playground," said Josh Cormier, the economic development coordinator. "Families are coming here to see the wall and to play. It's done so many more things than I ever expected it to."
Over the past few weeks, a team of half a dozen student artists have created the city's first large scale piece of public art using spray paint. The "Unplug and Play" mural depicts a scene of children leaving behind video games and controllers to go outside and enjoy a playground.
The mural — stretching more than 70 feet — is full of little Gardner details, such as the "big chair," wind turbines, the Gardner High Wildcats colors and a playground that is a replica of Jackson. The mural is only a couple of days away from being complete, according to the artists.
The artists — Ben Mikels, Anthony Guerrero, Cyrus Ndolo, Margot Parrot and Kablilganfai Subramanian — are volunteering their time.
"I like it," said Mayor Mark Hawke. "It's all there." The wall has generated a buzz of activity on Facebook, with my families commenting positively, and calls appreciating the new look, according to Mr. Cormier. Many people, such as City Councillor Karen Hardern, have visited the park multiple times in the last few weeks to watch the mural take shape.
Among the artists, they joke that one day the playgroup will be referred to as the "Unplug and Play" playground.
"I honestly like everything about it," said lead artist Mr. Mikels. "It's a true collaboration … and it's something that is going to last."
The project has set the tone for future mural collaboration between MWCC and the city. The hope, according to Mr. Cormier, is to do at least one wall in the city every year. The college has given the idea their full support.
"One of the cornerstones of MWCC is engagement," said college President Daniel Asquino.
He said projects like the mural help students gain practical experiences and build their resumes, preparing them for the future.
Additionally, "it enhances the image of the city," he said. "It's ideal."
Mr. Mikels said he is hoping to do more murals in the city and is available for free consultations.
"People love it, and it stops vandalism," said Mr. Mikels.
Mr. Mikels can be contacted via Facebook.
(Katie Landeck, The Gardner News)