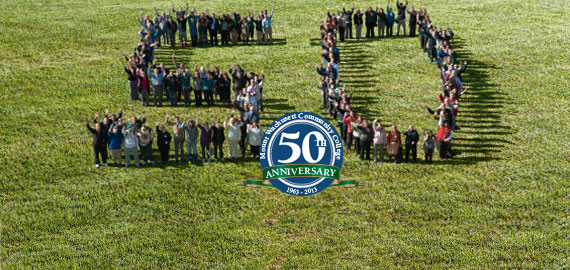 Much has transpired over the past five decades as Mount Wachusett Community College evolved from a fledgling institution to multi-campus college providing academic, workforce development and personal enrichment programs to more than 12,000 credit and noncredit students from throughout North Central Massachusetts. Since its founding, more than 100,000 students have attended "the Mount" under the continuous leadership of just two presidents.
Beginning this month and throughout 2013, MWCC will celebrate its golden anniversary with special events planned for the public, alumni, students, faculty, staff, and others who collectively make up the college community. "Honoring the past, generating the future" is the theme of the celebration.
"Our golden anniversary is a remarkable milestone, which we approach with great enthusiasm and pride in the generations of area residents who have shared in the journey," said MWCC President Daniel M. Asquino. "We are eager to celebrate our past, present and future with the college community and the greater community as we continue to find new ways to enrich the lives of all those we serve. While much as changed, some things remain the same. Today's students benefit from the same commitment to their success, dedicated faculty and superior student services."
Long-serving faculty members Dr. Vincent Ialenti, dean of academic and institutional technology, and Professor Gail Steele, director of MWCC's Theatre at the Mount, are co-chairing the 50th anniversary committee.
"As we have planned for this year-long celebration, we have often remarked that the concept of 'six degrees of separation' more than applies to the Mount," said Professor Steele, who joined the MWCC faculty in 1977. "It would be difficult to find an individual in Central Massachusetts who doesn't have a connection to MWCC in some way, whether they have taken classes, attended theatre productions, visited the fitness center, or participated in community events on campus. Mount Wachusett Community College is truly part of the fabric of our community," she said.
"Examining the college's development and contributions over 50 years really demonstrates how MWCC has had an impact in some way, shape or form on nearly everyone in the 29 cities and towns that make up our service area," said Dr. Ialenti, who has been at MWCC for 43 years. "It has been a lot of fun to look back over the last half century. For those of us who were there, it is nostalgic to remember the 60s when the college was founded. For those who are too young to remember, it is fascinating to compare 'then' with 'now,' " he said.
MWCC was established on November 8, 1963 by the Massachusetts Legislature as one of the first eight of 15 community colleges in the state, bringing to fruition a long-held dream of then-governor Foster Furcolo to provide all of the services community colleges now offer – from affordable access to quality higher education to workforce development training and lifelong learning opportunities.
After some competition between towns, Gardner was chosen as the community for the college. Arthur Haley was named director in 1963 and was tasked with appointing the first faculty members and enrolling the first students in preparation for classes that began the following year. The college began with various sites in the city, including the present-day Helen Mae Sauter School on Elm Street as the main campus, a former church on Pearl Street, the former First National store, and the former nurses' home at Heywood Hospital. The first graduating class of 71 students received their diplomas in 1966.
In 1965, the Heywood farm on Green Street, comprised of nearly 300 acres, was selected as the permanent location of the college. The state purchased the land from the city of Gardner for $1. The college broke ground for the main campus building on May 18, 1971 and the new facility opened on September 16, 1974.
Founding President Haley served until 1987 and was succeeded by Dr. Daniel M. Asquino, who is now in his 26th year as president of the college. Under President Asquino's leadership, the college continued to progress with expanded programs, satellite campuses, and state, national and local recognition in areas such as civic engagement, college access and transition, and renewable energy.
In addition to the main campus, MWCC offer programs at campuses in Leominster, Devens and Fitchburg. Academic offerings have expanded to more than 45 degree and certificate programs, as well as adult basic education/GED programs, education and training for business and industry, and non-credit enrichment programs.
To commemorate the 50th anniversary, a series of events, community service projects, career and college fairs, exhibits, dedication ceremonies, an essay contest, a time capsule, and other programs will take place throughout the year.
The festivities will kick off on Jan. 30 with a performance for students by the 1960s band "Shakin' All Over" in the South Café.
Nationally-known Massachusetts singer-songwriter Kellianna will perform a free concert on March 15 in the theatre. The concert is open to the public and will be recorded by students in MWCC's Broadcasting and Electronic Media program for DVD distribution.
A presentation on the history of MWCC, led by Dr. Ialenti, will take place April 4 at the Gardner Museum.
A Free College Day for the public is planned for Saturday, April 13 offering fun, informative workshops and classes on a variety of topics including computers, photography, science and technology, dual enrollment opportunities for teens, theatre, dance, public speaking, fitness, criminal justice, writing, and much more. The event will also feature an academic and career expo and door prizes including Theatre at the Mount season tickets, Fitness and Wellness Center memberships, free credit, noncredit and workforce development courses, college sweatshirts, and other prizes.
In June, an exhibit of artwork by the late James Murphy, a Gardner native and community advocate who served as the first chair of MWCC's Board of Trustees, will be featured.
Theatre at the Mount's fall production of the 1960s musical "Shout" will include a special alumni night performance on Thursday, Oct. 10 at the 1960s price of just $6 per ticket. The 60s musical revue tracks five girls as they come of age during the liberating days that made England swing.
Also in October, the art department is hosting an alumni art exhibit in the East Wing Gallery, and the MWCC Foundation is hosting a harvest ball to raise funds for student scholarships.
Information about MWCC's 50th anniversary celebration and activities, historical photos, yearbooks, tributes and more can be found on the college's website.