Mount Wachusett Community College in Gardner, MA recently completed rebuilds of five audio control rooms in its Media Arts & Technology facilities. The college offers an associate degree in Media Arts & Technology, with concentration options in video, photography, and audio engineering. The program is unique in the Massachusetts higher educational system for its amount of audio training within a media studies department. Even video students take at least two courses in audio, and the control rooms are tied to the school's theater and TV studios. The department combines efforts of 11 classes to produce a live concert DVD annually.
Department Chair John Little wrote the audio curriculum at MWCC to fill what he saw as a void in higher education media programs. "As a soundman and recording engineer, I've worked with outstanding film makers and video folks. Most of us went to respected colleges and universities to start our careers, and over the years, I heard numerous comments on the lack of training in audio for visual media disciplines. Many of those folks wished they understood more about what I was doing, particularly in post-production. I realized most of my audio skills came from outside college, and when I began teaching at MWCC, I was lucky to be in a position to raise the audio bar for our students," says Little.
All five audio studios were renovated with new flooring, wall treatments, lighting, furnishing and new analog, Dante, video and network tie lines.
Studios 1 through 3 are identical as entry-level studios with Soundcraft Si Expression 1 digital consoles. They feature connectivity by Dante, analog audio ties, and HDSDI video patching. These studios and six other workstations utilize Adobe Audition CS6 audio software.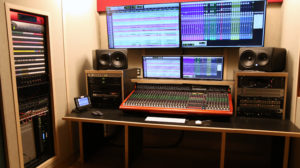 Studio 4 is built around a Toft Audio Designs ATB 32 analog multi-buss console, wired in a split configuration, running 16 analog feeds or 16 Dante feeds via Focusrite Rednet interfaces. DAW here is ProTools HD Native with 16 channels of Avid HD/IO. It is networked to a department wide Avid ISIS 5500 storage server, shared by 13 other ProTools and Media Composer workstations. Additional software in studio 4 includes plug-ins by Waves, Izotope, and Lexicon. Foley recording and mixing for motion picture are aided through dual 22 and 50 inch video monitors. Outboard gear includes FMR Audio compressors, Drawmer DeEssers, DBX graphic EQs, Alesis effects and Tascam CD recorders/players. Audio monitoring is provided by Mackie HR 824 monitors, tuned through a DBX 1231 referenced by an Audio Control Industrial SA-3050A spectrum analyzer.
Studio 5 features an 80 input Audient ASP8024 with Dual Layer Control. Recording is handled with a ProTools HDX system running 32 analog channels of Avid HD/IO and 32 channels of Dante via Focusrite Rednet. The room is also networked to the Avid ISIS 5500 storage server. Additional software includes Waves, Izotope, and Lexicon plug ins. This ProTools system is equipped with Avid Video Satellite, patched to an Avid Media Composer Video edit system, which provides synchronizing to full HD quality video for Foley work and mixing to motion picture. Outboard includes compressors from Empirical Labs and FMR Audio, Drawmer DeEssers, Lexicon effects, and Tascam CD recorders. The room has five video monitors, switchable through electronic routing. On the large video monitor, while recording multi-camera events, the audio students will view a duplicate of the video control room's multi-display of all cameras, just as the video directors see. Audio monitoring in this room is also provided by Mackie HR 824 monitors, tuned through a DBX 1231 referenced by Audio Control Industrial SA-3050A spectrum analysis.
Visual displays in studios 4 and 5 enjoy a rare integration of Extron IPCP Pro 250 Control Processors driving Extron DXP HD4K Series video switchers via Extron TouchLink panels. Designed by Art Collins, MWCC's Chief Engineer of Media Services, this set up allows choice of both video and computer outputs to be called up to any screen in the studio with simple button pressing. Additionally, the studio upgrades include 24 channels of fiber optic single mode connection to the college's theater 2,000 feet away. For recording live concerts, these carry 48 audio channels via Dante, up to 10 HD video camera signals with camera control from the video master control room, return video, and intercom. House reference for gen lock and synchronization of video with audio is supported with Audio Studio 5's Avid HD Sync for time code and rendered word clock.
Equipment choices for the five audio rooms are a result of efforts by MWCC's Media Services specialists, Rob Pemberton of Audire Design, Inc., Medford, MA, Rick Scott from Parsons Audio in Wellesley, MA, and John Little, the department's chair. Acoustical Design of studio 5 was engineered by Lou Clark, proprietor of Sonic-Space from Portsmouth NH, whose team also installed both studio 4 and studio 5. A new custom console desk for studio 4 was built and installed by Eric Pearce of Soundwall Construction, Rye, NH. Custom console desks in studios 1, 2, and 3 were built and installed by Dave Ruthardt, of Woodesign Company, Upton, MA. Parsons Audio of Wellesley, MA brokered all equipment purchases.
"We're especially happy with the Audient console we put in studio 5," says Little. "I chose it before I knew how many colleges around the world use them. I insisted on an actual console with real audio paths over a controller. This one has the feel of a large format desk, yet is elementary enough for students to embrace quickly. It has gorgeous pre-amps, it's quiet as a mouse, and the dual layer module provides DAW controller options and automation, so with this one board, we can teach a lot."
As department chair of a program that educates in the media arts, Little has to answer to concerns about job prospects in the industries. "I see more and more schools and students excited about production work, and there is a legitimate concern in a glut of students preparing for fantasies rather than jobs – particularly in rural areas like ours, 60 miles outside of Boston." The good news, according to the Bureau of Labor Statistics Occupational Handbook, is employment of broadcast and sound engineering technicians is projected to grow seven percent from 2014 to 2024, about as fast as the average for all occupations. That includes 12 percent for AV technicians, three percent for staff photographers, and nine percent for self-employed photographers, Little says.
"So much interest in production work is not in response to demand of the industry, but from a fascination with it. Still, there are more TV shows now than ever before, there is more music being recorded than ever before, websites have replaced brochures, and they are including more and more media content. Audio is a critical part in all of it. The production industry is still growing, and for anyone to have a competitive chance in it, they must be trained."
Learn more about MWCC's Media Arts & Technology program.