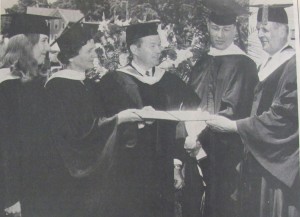 Fifty years ago, lifelong Gardner resident Helen Lepkowski was among a handful of Mount Wachusett Community College faculty members to congratulate the college's first graduating class.
On Wednesday, May 20, the former business division professor and her husband, Ed, a former MWCC trustee, will maintain their longstanding tradition of attending the celebration. Unlike the first ceremony, where 71 graduates received associate degrees in six academic programs, the college will award more than 840 associate degrees and academic certificates to 785 graduates enrolled in nearly 50 program options.
Mount Wachusett's first commencement, held outdoors on Sunday, June 12, 1966 at the Elm Street campus, featured Dr. Howard B. Jefferson, the third president of Clark University, as the speaker.
"It was very small and it was just wonderful and intimate. It was a beautiful day," Mrs. Lepkowski recalled. "It's always a wonderful opportunity to be there and there are always people you know who are graduating or are there for the occasion."
MWCC's 50th Commencement ceremony will begin at 6 p.m. in the college's Fitness & Wellness Center.
Among this year's highlights, Gardner native Kevin Berg, executive vice president of production for CBS Network Entertainment in Los Angeles, will deliver the commencement address. Berg also will receive an honorary doctorate of Humanities, as well as the 2015 Alumnus of the Year Award.
Community leader and long-serving volunteer James O. Garrison will receive is the recipient of Mount Wachusett Community College's 2015 Service Above Self Award. The award recognizes individuals who have made significant contributions within the 29 cities and towns that make up the college's service area. Mr. Garrison, former MWCC Board of Trustees chair and benefactor of the Garrison Center for Early Childhood Education and Early Childhood Education scholarships, will receive an honorary doctorate of Humane Letters. Prior to the commencement ceremony, President Daniel M. Asquino and the Board of Trustees will recognize Mr. Garrison and his wife, Peggy, for their generous gifts and commitment to students during a rededication of the Garrison Center.
Business Administration graduate Yasmine Kanaan has been selected to deliver the Class of 2015 Student Address.
Five retiring professors will receive emeriti status: Joel Anderson, Media Arts & Technology; Paul Laverty, Mathematics; John McNally, Health Sciences, Fitness & Wellness; Elena Natalizia, Criminal Justice; and John Reilly, Business Administration.
New this year, two food trucks will be on site to curb appetites: The Dogfather Truck of Worcester, and Dylan and Pete's Ice Cream Truck of Boston. The MWCC Alumni Association will return with flowers for sale, and the Phi Theta Kappa honor society will conduct its 12th annual Project Graduation food drive. Graduates and their guests are asked to bring a non-perishable food item to the commencement rehearsal and/or ceremony. Donations will be delivered to the Gardner Community Action Committee, the Winchendon Community Action Committee, and MWCC's Students SOS office.