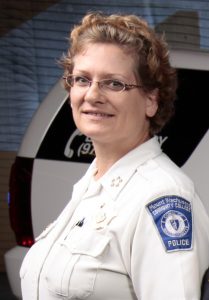 (This article was published by The Gardner News on Saturday, Sept. 9 and written by Andrew Mansfield) With new headquarters located next to the new student center, the Mount Wachusett Community College campus police are a nearby resource for the people they protect.
The new 4,500-square-foot student center is set to be unveiled next week and is near the cafeteria and bookstore, two other popular spots for students.
The student center will also connect with the student services offices. In tandem with that, the college decided to move the campus police offices to be across from the student center, and enhance the space and technology police have at their disposal in the process.
The overall design of the area's layout is open, as concrete walls were taken out and people in one room will be able to see people in another room, separated by glass walls.
"This puts a lot of things together for us. It gives us more availability to students," Mount Wachusett Chief of Police and Public Safety Karen Kolimaga said. "That visibility, they know we're here. They know where to find us."
Kolimaga said that she, the lieutenant and staff assistant had separate offices prior, but are now joined together in the new space.
She explained the other officers would use office space in the college's basement area, which wasn't always as private a space as needed for certain situations, such as interviewing someone.
In the new headquarters though, there is a secure room designated for interviews. Additional new features include a dispatch center and screens from which security camera footage can be viewed.
In general, the new headquarters offer the police greater security. A card swipe is needed to authorize entry and there is bulletproof glass.
Kolimaga said the campus police, including her, are comprised of 10 officers along with a civilian staff assistant.
One of those officers covers the satellite campuses in Leominster and Devens and the other nine are in Gardner.
She described the crime rate the campus police see as being lower than what municipal officers would typically deal with, and said the most frequent crime on campuses is larceny, which often happens when someone leaves their belongings unattended. She also said occasionally the police have to break up fights.
But the campus police are also involved in much more than what people traditionally think of law enforcement doing. Kolimaga spoke of a rather lengthy list of activities they do to help students out.
When students lock themselves out of their car or need their car to be jump-started, the police are there for assistance.
When students seek advice on how to navigate resources for a domestic incident they experienced, the police are there to point them in the right direction and guide them through the process.
Campus police also instruct self-defense classes and active shooter training, should that ever happen, to ensure faculty and students are prepared.
Another major aspect of the job is securing the facilities at night, such as the power plant, checking on all systems to make sure the college's infrastructure is working as it should.
The phrase "community policing" is often used in the context of efforts in society to improve the relationship between local police departments and residents, but Kolimaga sees that concept not as new, but really the foundation of what good police officers do.
"As far as I'm concerned, policing is community policing and always has been. We are very much a resource for the public and that's what we should be and that's what community policing really is, interacting with the public," she said.
After graduating from college, Kolimaga said she began her career as a dispatcher in Worcester and then in Athol.
She decided to enter the police academy while working in Athol and became an officer in 1989. From there, she worked her way up the ranks to sergeant and then lieutenant.
In 2006, she began serving as the police chief at Mount Wachusett Community College. She recalled that while she was in Athol, she served as the school resource officer and taught children the Drug Abuse Resistance Education program; some of those children she has since seen again as grown-up college students.
"I've always been community-minded," she said. "This was kind of a natural progression and I enjoy it. I plan on finishing my career here," she said.
The campus police have maintained consistency in terms of staff size during her tenure, she indicated, but otherwise have seen several changes, such as becoming armed beginning in 2015.
In earlier years, it was common for people to confuse the campus police as being security workers, but she said the police have the same powers municipal departments such as the Gardner Police have, with the jurisdiction for campus police being the Mount Wachusett Community College properties.
Kolimaga described having the new space and technology for campus police as the "next growth step" for the department.