More than100 people gathered in the Raymond LaFontaine Fine Arts Center on June 6 for a reception celebrating the life, legacy and artwork of James D. Murphy, the first chair of the college's Board of Trustees. All proceeds from the event benefited the new James D. Murphy Scholarship, which will be given each year to the student representative on the MWCC Board of Trustees.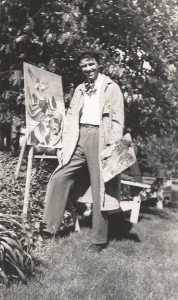 "This exhibit demonstrates the wide range of Jim's artistic skills. Perhaps best known to the general public as a cartoonist and illustrator for his 25 years as the advertising director of The Gardner News, or they are familiar with Jim's historical drawings that accompanied the words of MWCC Professor Tom Malloy in a long running series on local history that ran in the paper," said Dr. Vincent Ialenti, dean of academic and institutional technology.
Murphy graduated from the Vesper George School of Art and the School of the Worcester Art Museum. He was an eclectic artist who worked with watercolors, oils, pen and ink, charcoal, and pastels. He was also a skilled cartoonist and caricaturist and was a member of the prestigious National Cartoonists Society.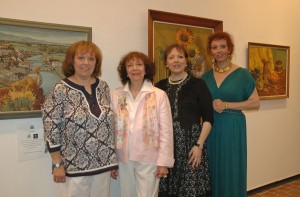 "My family and I were so pleased that it was a successful event, and are thankful for the generosity of so many who contributed to the scholarship," said Professor Sheila Murphy. "It was an event made special by the presence of so many family members and friends, by the talents of Larry Buckley, the pianist from dad's jazz combo, and by the moving tribute given by Dean Vincent Ialenti. The event coalesced so many of my dad's passions: art, music, family, friends, the college, and giving back to the community. My family and I are so grateful that the community has once again come together to honor my dad and in so doing, help Mount students for years to come."MWCC Student Trustee Christine Eck was the first recipient of the scholarship.