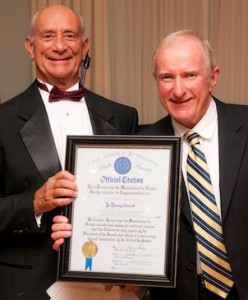 As Mount Wachusett Community College's year-long 50th anniversary celebration comes to a close, the varied events and activities provided an opportunity for members of the college and greater community to reflect on the past, reconnect with classmates and faculty, and make a positive impact on future students.
Signature 50th anniversary events sponsored by the MWCC Foundation throughout the year, including a Presidential Harvest Ball held October 5 at the Chocksett Inn in Sterling, raised more than $120,000 for the foundation's endowment for student scholarships.
MWCC President Daniel M. Asquino thanked the college's many partners and sponsors for their dedication throughout the anniversary celebration, as well as for their support of the college's past, present and future initiatives.
During the Harvest Ball, Senator Stephen M. Brewer stopped in to present college officials with a Senate citation congratulating MWCC on its milestone anniversary and positive impact the institution has had on North Central Massachusetts and the state over the past five decades.
"It is our inter-generational responsibility to help level the playing field for all students who show the desire and the talent to obtain the benefits of higher education," Brewer said.  "Mount Wachusett Community College has been providing these opportunities for 50 years.  The English language has over a million words in it, those of us in public policy ought to single out the special word of 'opportunity 'as a beacon of inspiration to those who dream big dreams."
Trustee Scott Howard, executive vice president of premier sponsor Bemis Associates, provided a celebratory toast. "Here's to all the students, staff, leaders and supporters of Mount Wachusett Community College for 50 years of work strengthening our community, our country and the world by providing outstanding educational opportunities to all regardless of race, gender or economic situation.  And here's to the ongoing work to continue expanding our impact for the next 50 years and beyond."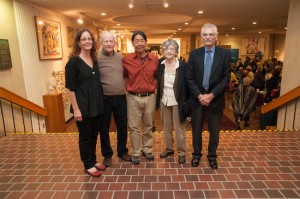 Other fall events included an alumni art exhibition featuring the artwork of more than 30 graduates and a special alumni showing of the 1960's themed production of Shout, the Mod Musical at Theatre at the Mount. More than 200 alumni and friends of the college attended the Oct. 10 events.
"It is wonderful to see such a large turnout of MWCC alumni, and friends of the college, here to celebrate our alumni art exhibition and to enjoy a special performance of Shout," said Carol Jacobson, Associate Director of Alumni Relations.
50th Anniversary Sponsors included premier sponsor Bemis Associates, Inc.; Mr. & Mrs. James Garrison; Scott Howard; MWCC Barnes & Noble Bookstore; The Clementi Family Trust; Data Guide Cable Corporation; Mr. and Mrs. Jay Drake; Enterprise Bank; IC Federal Credit Union; Nypro Foundation; Rollstone Bank & Trust; Advanced Cable Ties, Inc., Athol Savings Bank; Mr. and Mrs. Frank Couvares; Ms. Ellen Daly; Mr. and Mrs. Walter Heath; Simonds International; Workers' Credit Union; and Gardner Visiting Nurses Association.
Harvest Ball sponsors included premier sponsor Bemis Associates, Inc.; Heywood healthcare, Chocksett Inn; Colonial Hotel; Aubuchon Hardware; GFA Federal Credit Union; Tyco/SimplexGrinnell; HealthAlliance Hospital; Fitchburg State University; Dunkin Donuts; Windmill Florist; Ed Collier Photography; Fidelity Bank; Clinton Hospital; Venning  & Jacques, PC; MASSMedia; Paul DiGeronimo and Katharine Marino; and Montachusett Regional Vocational Technical School.