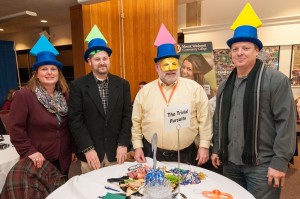 On Thursday evening, January 8, "Quizters" and spectators braved the arctic cold and made a spectacular showing at the Mount Wachusett Community College Alumni Association's first annual "Quiz Night" event.
In a dynamic game of question and answer, teams tested their knowledge related to current topics and college-related trivia. Promoted as a fun and entertaining evening, the event proved to be just that. Teams were encouraged to give themselves humorous names and to come dressed in costume. Many did, adding to the amusing atmosphere. Complementing the levity of the evening was Master of Ceremonies, Mayor Mark Hawke, whose quick wit truly entertained the crowd. "I didn't find the questions all that difficult, but then again I had the answers" Mayor Hawke commented. "What a fantastic night and a great way to raise funds for the MWCC Foundation."
"This turned out to be a great way to raise much needed funds for student scholarships" said Carol Jacobson, Associate Director Alumni Relations at MWCC. "Being our first effort with this event, we are thrilled with the level of support and enthusiasm we received from members of the community and within the college. We're already looking ahead to next year."
Thomas Mutti from the Ronald M. Ansin Foundation participated as a member of the HealthAlliance Hospital team. "I can't imagine a better night for a better cause" he said. "Fun was had by all and a day later I'm still laughing."
The event netted nearly $3,000 and proceeds will fund student scholarships through the Mount Wachusett Community College Foundation.