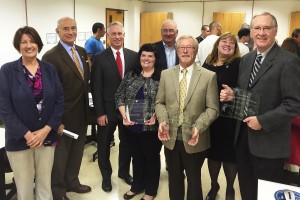 Mount Wachusett Community College celebrated National Manufacturing Day on Oct. 2 with a free expo featuring demonstrations, speakers and tours of its Manufacturing Workforce Certification Center and Devens campus.
The third annual networking and informational event brought together industry representatives, educators and students who toured the manufacturing and skills-training labs and participated in hands-on demonstrations. The event was sponsored, in part, through a Trade Adjustment Assistance Community College and Career Training (TAACCCT III) grant from the U.S. Department of Labor.
"We are proud to once again sponsor an event in recognition of National Manufacturing Day to raise awareness about the job opportunities available in North Central Massachusetts and the industry partnerships that actively work to close the gap between trained workers and employer needs," said President Daniel M. Asquino.
Later this fall and winter, the college will acquire an additional $430,000 worth of training equipment through the TAACCCT grant, including portable training devices that address the fundamentals of automated manufacturing processes, he said. The equipment will be brought to schools, businesses and other locations for on-site instruction.
National Manufacturing Day was established in 2012 to help change public perception of manufacturing and underscore the shortage of skilled workers in Massachusetts and in the country. Featured speakers at MWCC's event included Thatcher Kezer, MassDevelopment's senior vice president of Devens, and State Representative Susannah Whipps-Lee of Athol.
Representative Whipps-Lee, co-owner of Whipps, Inc,. a company founded by her father that designs and builds equipment for the wastewater industry, shared how the family business grew from a small start-up with two employees and $1,800 in annual sales to 70 employees and $28 million in sales by investing in their workforce through local training programs.
"We have always relied on our local educational institutions to help us grow our business. Mount Wachusett Community College has always been the go 'go-to' place as far as how we can help our local industries, how we can help our local hospitals get the skilled workforce they need," she said.
"The Commonwealth understands the needs of business and the needs of our workforce and how we can gather people together to get them trained. Our delegation in central Massachusetts is very dedicated to the workforce and the people in this part of the state."
Mr. Kezer noted the progress being made in the region and in the state to identify longstanding infrastructure issues, such as transportation, to expand opportunity for workers.
Demonstrations throughout the morning included CAD design & 3-D printing, mechatronics, a manufacturing aptitude challenge, biotechnology and quality.
Manufacturing partnerships awards were presented to members of MWCC's Advanced Manufacturing Advisory Board by Jacqueline Belrose, Vice President of Lifelong Learning and Workforce Development, and board chair Dennis Bunnell. Recipients include: Tom Clay of Xtalic Corp; Fred Flohr of Georgia-Pacific Dixie Business; Mark Freeman of Steel-Fab, Inc.; Leo Gibbons of H.C. Starck, Inc.; Eamonn Goold of Bristol-Myers Squibb; John Gravelle of Sterling Manufacturing; Eric Longo of Bemis Associates, Inc.; Raymond Martino of Simonds International; Steven Rocheleau of Rocheleau Tool and Die Co. Inc.; Tim Sappington of the North Central MA Workforce Investment Board; Kelly Schick of Bristol-Myers Squibb; John Witkowski of Nypro-Jabil Healthcare; and Melissa Fetterhoff of the Nashoba Valley Chamber of Commerce.