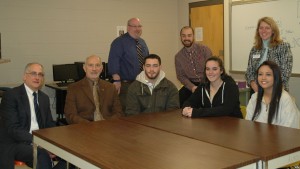 Mount Wachusett Community College has teamed up with Leominster High School in a pilot program designed to tackle a national issue: preparing high school graduates for success in college-level mathematics.
More than half of incoming Massachusetts community college students require developmental math education, and 31 percent of those who complete the developmental course go on to complete a college-level course within two years, according to statistics from the Massachusetts Department of Higher Education. Approximately 80 percent of incoming community college students in 2006 did not complete a college level math class within two years. Of the 11,000 community college students who took remedial math in fall 2010, 9,000 have yet to pass a credit-bearing course, concluded a task force on Transforming Developmental Math Education convened this year by Higher Education.
A year ago, educators at MWCC and Leominster High School met to address the issue, which subsequently led to the creation of a pilot course, Math Modeling. Spearheaded by MWCC Professor Yoav Elinevsky, chair of the college's math department, the pilot program was developed by a team of Leominster public school teachers, the school district's curriculum coordinator, and MWCC math faculty, with support from MWCC's Access & Transition and Academics Affairs divisions.
The Math Modeling program identifies sooner, rather than later, whether students need developmental math before being accepted into college-level courses required for an academic degree.
Traditionally, students discover during the college application process that they could need up to three developmental courses before they are ready to take on college-level math courses, a process that causes many to become discouraged and drop out. Instead, the Math Modeling program tests high school students at the end of their junior year. Those needing developmental math can then take the course during their senior year.
Six sections of the Mathematics Modeling course are being offered this year to 134 seniors at LHS and the district's vocational school, the Center for Technical Education Innovation.
The course includes the traditional curriculum of a developmental mathematics course (arithmetic, percentages, basic geometry and basic algebra) with a strong emphasis on solving complex problems and linear modeling. Different techniques of problem solving are practiced throughout the course, which also emphasizes using math for everyday applications.
The program seeks to answer students' age-old question:  "Why would I ever need to learn this?" said Patrice Lincoln, Dean of MWCC's Division of Access & Transition. Upon successful completion of the course, students will be ready to take college-level mathematics courses.
"It's all about getting students ready for college credit and to succeed in college," said MWCC President Daniel Asquino. The college anticipates partnering with other area school districts to provide the course in 2014.
"We're all in the same situation, trying to help all students be successful," said Leominster Public Schools Superintendent James Jolicoeur. "This is an example of one of many partnerships between Leominster Public Schools and Mount Wachusett. We appreciate the college stepping up to help with this course."