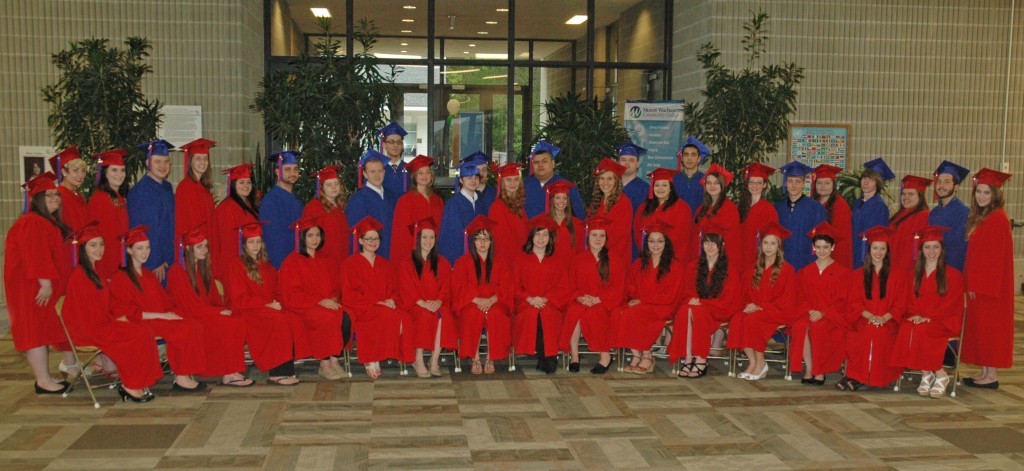 From the age-old wisdom of Johann Wolfgang von Goethe to the reflections of teenagers wise beyond years, the May 27 graduation ceremony honoring 48 dual enrollment students at Mount Wachusett Community College offered a blend of insight and inspiration.
Students enrolled in the Gateway to College program and the Pathways Early College Innovation School, offered in partnership with the Ralph C. Mahar Regional School District, were lauded for their accomplishments by educators, family members and friends gathered in the college's Raymond M. LaFontaine Fine Arts Center theatre. As dual enrollment students, the graduates all completed the requirements for their high school diploma while simultaneously earning college credits or an associate degree.
"As I reflect on your accomplishments, one thing comes to mind and that is that you are going to be successful, for a variety of reasons, but one in particular. You have taken a different path to graduation. You decided to be nontraditional, you decided to think outside the box and be creative. All of these skills are going to be beneficial to you," MWCC President Daniel M. Asquino told the graduates.
"Whatever you can do or dream you can, begin it. Boldness has genius, power and magic in it," he said, quoting van Goethe. Determining one's calling, the president continued, can be difficult in the face of many changes, compromises, demands of time and the constant interruptions of living in a fast-paced world. "So dream," he said. "Set aside some time for deep reflection and insight."
Mahar Superintendent of Schools Tari N. Thomas praised the graduates for their strength and tenacity, otherwise known as grit.
"Grit is defined as sticking with things over the long term until you master them," she said. "Research shows when it comes to achievement, grit is determined to be as essential as intellect. Research is now showing our grittiest students, the ones who are working hard with the greatest amount of determination, are the ones realizing the greatest success and even the greatest GPAs. All of you are unique and strong. You've demonstrated the grit necessary for high achievement, scholarly success and more. You're hard working, tenacious and diligent and it will pay off."
Gateway valedictorian Zoe Greim shared her personal story of adversity and triumph. Diagnosed in high school with Multiple Sclerosis, she viewed the news as a "wake-up call" to take charge of her life and not waste a minute of time. Disenchanted with the high schools she attended, she enrolled in the Gateway to College program at the advice of a guidance counselor and was named to the dean's list or president's list during all three semesters at the college. This fall, she will transfer to a university in Florida to pursue a bachelor's degree.
"We need to see life is too short to sit around and wait for good or bad things to come to us. We need to go out and make things happen. I know we can all do that, since we all made the decision to come here. We need to strive to be the best we can be. If you want something, go get it and don't let anyone or anything stand in your way," Greim told her fellow graduates.
Pathways valedictorian Erin Leamy reflected on the diverse paths each student took to reach their graduation day, as well as the common traits they all share.
"We all had something in common that inspired us to leave high school early and get a jump start on college. For some, it was simply time to move on. We no longer felt academically challenged. For others, high school had become stale, and we were looking for a fresh start. I can't help but wonder how many diverse paths each of our lives will take – how many ways we'll be challenged, and how each of us will respond to those challenges."
Joseph Benavidez , who graduated in 2009 from the Gateway program and earned an associate degree in Liberal Arts from MWCC in 2010, was the keynote speaker. After graduating from MWCC, he transferred to Salem State University and earned a bachelor's degree in communications in 2013 and is now working as a journalist.
"Tonight, you are all warriors after a battle. You've earned your high school diploma. Some of you have already received college degrees as well. It took sweat and hardship to get here and that deserves a round of applause."
Deborah Bibeau, assistant dean of transitions programming at MWCC, praised the partnership between the college and the school district. "As a testament to the long-term collaboration with the Ralph C. Mahar Regional School District, this summer we'll be preparing for the new Pathways students entering the program's fifth year of operation, and new Gateway students entering the program's ninth year of operation."