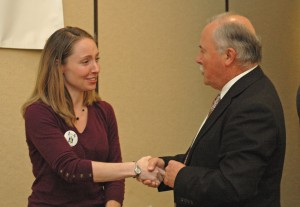 Mental health problems affect more than 50 million Americans and their families, including as many as 300,000 students and young adults in Massachusetts at any given time. To help raise awareness about mental health issues affecting young people, The SHINE Initiative and Mount Wachusett Community College hosted a mental health conference on Thursday, Oct. 11 at the Four Points by Sheraton in Leominster.
Approximately 300 area educators, mental health professionals and students attended the conference, which included presentations by experts in the areas of anxiety and depression awareness and treatment and suicide awareness and prevention, as well as a training session.
"Mount Wachusett Community College is proud to partner with the SHINE Initiative to raise awareness of an issue that affects countless lives and families in the U.S. and locally," said MWCC President Daniel M. Asquino, who welcomed the participants. "Through the support of The SHINE Initiative, we can work in collaboration with our community partners and local school districts to develop and implement a program aimed at enhancing student success at all levels of education."
"Our mission is to be a leader in the effort to recognize mental illness in children and young adults as a mainstream health issue. This conference is a wonderful opportunity to raise awareness with the help of educators, health providers and students themselves," said Paul Richard, executive director of the SHINE Initiative.
The focus on the mental health of young people is critical. Half of lifetime cases of mental illness begin by age 14; one in every five young person is affected by mental health problems at any given time; two of every three young people with mental health problems are not getting the help they need; and suicide is the third leading cause of death for 15 to 24-year-olds.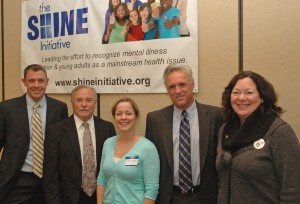 Alison Malmon, founder and executive director of Active Minds, a national peer advocacy organization established at more than 340 college and university campuses including a new chapter at MWCC, was the keynote speaker. Several club members and their advisor, Professor Julie Capozzi, attended the conference.
Ms. Malmon founded the nonprofit organization Active Minds in 2003, when she was a junior at the University of Pennsylvania following the suicide of her older brother, Brian. Featured on CNN, in The New York Times, The Chronicle of Higher Education and others, Active Minds has become the voice of young adult mental health advocacy nationwide. "The vast majority of mental illnesses start in middle school, high school and college ages. This is a time when we need to be educated," she said.
Other speakers included Nick Dutter, a veteran of the U.S. Army and the war in Iraq who now serves as veteran outreach coordinator for Home Base Program, a partnership between Massachusetts General Hospital and the Red Sox Foundation providing clinical care and support services to veterans and their families; Dr. Barry N. Feldman, director of psychiatry services in public safety and assistant professor of psychiatry at UMass Medical School; and Dr. Phoebe S. Moore, assistant professor in the psychiatry department at UMass Medical School. In addition, Melissa Manzi, senior academic counselor at MWCC and Diane King, R.N., coordinator of Health Services at MWCC, presented a QPR (Question, Persuade, Refer) training session, which taught participants how to recognize the warning sides of a suicide crisis and provide help.