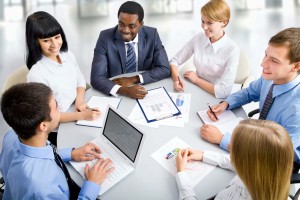 MWCC's summer business luncheon series returns this year with a variety of professional development, supervisory and management sessions. The college's Division of Lifelong Learning and Workforce Development has bundled several of its popular course offerings for entrepreneurs, small businesses, nonprofits as well as corporate staff.
On June 6, the session "Creating a Collaborative Workplace" will introduce the fundamental aspects that drive effective coaching and mentoring programs in organizations. Participants will learn ways to improve leadership and reduce key employee turnover, and be introduced to the critical skills needed to conduct coaching conversations, adapt one's coaching style to fit changing situations, and become familiar with developing a coaching plan for business.
On June 20, "Human Resources and Business Staffing Fundamentals" will provide insights into ways to protect your business, your employees, and yourself from legal liability. In this session, participants will receive practical legal business advice from hiring to firing from a legal advisor and private sector human resources executive.
On July 18, "The Art of Giving a Performance Appraisal" will provide new and seasoned middle managers with tips to constructively and effectively inspire greater involvement, innovation, and business results from staff members Participants will learn about "the management by objectives process" as one example to support the appraisal process.
On Aug. 1, "Making the Transition to Management" will provide an overview of three leadership skill sets necessary to ensure individual and organizational performance. Participants will learn ways to adjust their management style to empower employees to find their own answers to business challenges and discover why coaching employees is essential to ensure maximum performance, motivation and retention.
On Aug. 15, "Negotiating to Win: Persuasive Communication" will cover essential techniques and approaches to positively influence and persuade customers, colleagues and stakeholders for a mutually desired outcome, such as resources for a project, funding for a new initiative, or establishing a team initiative to support a new product or service.
The luncheon series will conclude on Aug. 22, with an information session on the Massachusetts Workforce Training Fund. Information about obtaining training grants, as well as recent changes to the program, will be provided.  The Workforce Training Fund is a state fund financed entirely by Massachusetts employers. Its purpose is to provide resources to Massachusetts businesses and workers to train current and newly hired employees.
All sessions take place from 12 to 1 p.m. in the North Café at MWCC's Gardner campus, 444 Green Street. The cost for each session is $15 when pre-registered or $17 at the door and includes a complimentary lunch. Seating is limited and available on a first-come, first-served basis. Register for one or more sessions by phone at 978-630-9575 or email training@mwcc.mass.edu.