Approximately 100 members of the North Central Massachusetts business community joined Mount Wachusett Community College to celebrate the second annual National Manufacturing Day on Oct. 4 and the opening of the Manufacturing Workforce Certification Center at the college's Devens campus.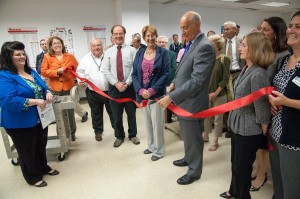 The open house, also sponsored by Mass Development, Amp it Up, and the Nashoba Valley Chamber of Commerce, also included exhibitions and displays as well as a presentation by Dr. John R. Mullin, associate director of the Center for Economic Development at UMass Amherst, sponsored by the North Central Massachusetts Economic Development Council in partnership with the Manufacturing CEO Roundtable.
The development of the center has been made possible through the Massachusetts Community Colleges and Workforce Development Transformation Agenda, which is funded by a grant from the U.S. Department of Labor through its TAACCCT program. The center provides industry-recognized assessments to companies looking to evaluate current and potential staff in the areas of mechanical, electrical and programmable logic circuitry skills. Other assessments including the nationally recognized WorkKeys program are available to employers. Curriculum designed to meet specific incumbent worker training needs is also available, as is the ability to work with companies to develop grant proposals for training through the state Workforce Training Fund.
In addition, the center provides space and tools to provide hands-on experience to participants seeking skills recognized by industry as critical to their success, as well as a venue for industry meetings and workshops and a resource to the region.
New short-term training programs that lead to industry credentials including OSHA certification and the National Career Readiness Certification were recently added to the Devens campus offerings. Applications for a new training session beginning this month are now being accepted.
The need for more advanced training in the area of analytical testing and quality control and assurance has been recognized by a recently announced award from the National Science Foundation to Mount Wachusett that will enable the college to develop programming that will lead to a new credit degree in Analytical and Quality Technology.