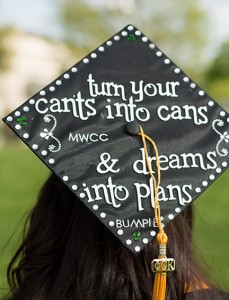 Mount Wachusett Community College, the Athol Area YMCA and the Athol Public Library are teaming up to offer "3 for 3 College Readiness," a series of three free workshops on the third Tuesday of the month from January through March. The sessions are geared toward adult learners of all ages.
The first session, "College Planning 101: Investing in your Future," will take place January 19 from 5:30 to 6:30 p.m. at the Athol Area YMCA. In this interactive workshop, participants will learn about the many benefits of earning a college degree, including career advancement, economic stability, and overall wellness.
The next session, "Financing Your Education" will take place February 16 from 5:30 to 6:30 p.m. at the Athol Public Library. The workshop will guide participants through the process of completing the Free Application for Federal Student Aid (FAFSA) to determine eligibility for grants, scholarships and student loans to cover the cost of tuition, fees and textbooks.
The third session, "Dive into College: Apply Today," will take place March 15 from 5:30 to 6:30 p.m. at the Athol Area YMCA. Students interested in enrolling in summer and fall 2016 courses will receive on-the-spot acceptance for any non-selective program. Students interested in enrolling in a selective program, which includes nursing, dental hygiene, dental assisting, physical therapist assistant and health information management, can obtain information about the application process.
Registration is not required, although reservations are recommended and can be made online at mwcc.edu/build/ymca. For information, contact the MWCC Admissions Office at admissions@mwcc.mass.edu or 978-630-9122, or visit mwcc.edu.