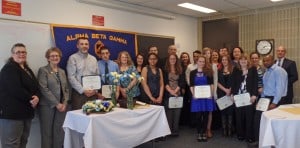 President Daniel Asquino and Jim Bellina, president and CEO of the Greater Gardner Chamber of Commerce joined MWCC business faculty and college officials to welcome 18 students into the Chi Gamma Chapter of the Alpha Beta Gamma international business honor society.
"Alpha Beta Gamma, the international business honor society. They key word is honor, and it's an honor for me to be here this afternoon to honor your achievement," President Asquino said.
The 26th annual induction ceremony was led by Professor Linda Bolduc, ABG advisor and business department chair, with outgoing ABG President Kathy Matson. The celebration included recognition of the chapter's newly elected and newly inducted officers: Michel Cocuzza, president, Alana Jones, vice president, Bethany Jones, treasurer, and Kimberly Mertell, secretary.
Bellina congratulated the students on selecting MWCC for their academic studies, noting that many of the students are busy balancing work and family responsibilities and volunteering in the community and at the college while earning their degree.
"You will be the type of people that others lean on," he said. "You are leaders and you have the background of being at Mount Wachusett Community College."
In addition to the four officers, other inductees are: Donavan Aboal-Caceres, Alexander Batutis, Paula Brown, Angelique Chaput, Joel DeVelis, Katie Dupont, Michelle Francisco, Tammy Goodgion, Jessica Guyer, Sheila Hebert, Lindsay Jamieson, Kevin LeBlanc, Marissa Pitisci and Nicholas Traverna.
Alpha Beta Gamma was established in 1970 to recognize and encourage scholarship among students at two-year colleges, provide leadership training opportunities and career assistance to members. To be eligible for membership into the honor society, students must be enrolled in a business curriculum, have completed 15 academic credit hours in a specific degree program and demonstrate academic excellence by attaining a grade point average of 3.0 or above. At MWCC, the programs include business administration, paralegal studies, computer information systems, graphic & interactive design and medical assisting.