MWCC's Student Life office will present a series of events throughout March in recognition of Women's History Month.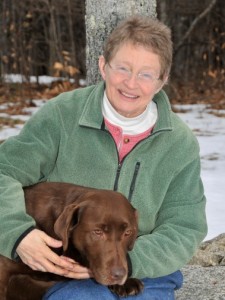 Vermont resident Mary Holland, naturalist, wildlife photographer, columnist and author, will speak on Wednesday, March 5 at 12:30 p.m. in the North Café. Holland's work in environmental education includes directing the state-wide Environmental Learning for the Future program for the Vermont Institute of Natural Science for eight years, working as a resource naturalist for the Massachusetts Audubon Society, designing and presenting her own hands-on Knee-high Nature Programs for libraries and elementary schools throughout Vermont and compiling Vermont's Rare Bird Alert for five years for the Vermont Center for Ecostudies.
She is the author of the children's book, Milkweed Visitors and Naturally Curious:  A Photographic Field Guide and Month-by-Month Journey Through the Woods, Fields and Marshes of New Englan, which won the 2011 National Outdoor Book Association award in the Nature Guidebook category. S
The mental health awareness exhibit "Nothing to Hide" will be on display in the Commons from March 10 to 26. Nothing to Hide is a museum-quality, photo-text traveling exhibit featuring photographs by Gigi Kaeser and interviews conducted by Jean Beard and Peggy Gillespie with families whose lives are affected by mental illness. The compelling accounts demonstrate strength, courage, integrity, and accomplishment in the face of the adversity and stigma of mental illness. By bringing visibility to these individuals and their families, Nothing to Hide helps dispel harmful stereotypes, myths, and misconceptions about mental illness."
On March 23, the film Half the Sky: Turning Oppression into Opportunity for Women Worldwide will be presented beginning at 12:30 p.m. in the North Café. Created as a four-hour television series for PBS and international broadcast,  the film was shot in 10 countries, including Cambodia, Kenya, India, Sierra Leone, Somaliland, Vietnam, Afghanistan, Pakistan, Liberia and the U.S.
Inspired by Nicholas Kristof and Sheryl WuDunn's book, the documentary series introduces women and girls who are living under some of the most difficult circumstances imaginable — and fighting bravely to change them. Traveling with intrepid reporter Nicholas Kristof and A-list celebrity advocates America Ferrera, Diane Lane, Eva Mendes, Meg Ryan, Gabrielle Union and Olivia Wilde, the film reflects viable and sustainable options for empowerment and offers an actionable blueprint for transformation.
The Women's Herstory Project returns this year featuring new mentors and role models. Professor Susan Goldstein's Journalism 1 class and the Student Life office will display photos and written profiles of women from MWCC's faculty and staff who play an important role in the lives of students on campus. The display will be located in the South Café through March 31.
On Wednesday, March 26, Women's Appreciation Day will be celebrated from 12:30 to 1:30 p.m. in the South Café. The event will include a performance by singer-songwriter Christa Gniadek. Gniadek blends raw emotion and humor into her songs, and sings with an honest self-assuredness of a person finding their way that is both charming and relevant. At first glance, Christa Gniadek seems like another pretty face with a guitar, but behind that also lies poignancy, grace, and tenaciously driven character, relatable at any age that everyone can appreciate and love.
On April 3, Meghan K. McCoy, M.Ed., program coordinator for the Massachusetts Agression Reduction Center (MARC) at Bridgewater State University, will present on Bullying and Cyber Bullying Prevention. The program begins at 12:30 p.m. in the North Café.
In working with the MARC program, McCoy has done extensive work in K-12 schools across Massachusetts and provides training, research and consultation about bullying and cyberbullying prevention, recognition, and intervention for students, faculty, administration, and parents. McCoy, who also teaches at Bridgewater State, has presented her work and the work of the MARC program at many state, regional, and national conferences and is heavily involved in research about bullying and cyberbullying prevention and intervention.   McCoy has also published work in the International Journal of Contemporary Sociology.