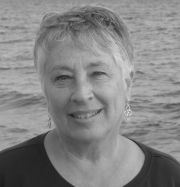 MWCC is celebrating Women's History Month with several events in March.
On Thursday, March 5, author and poet Gail Thomas will present a poetry reading at 12:30 in the North Café. Thomas has published two books of poetry, No Simple Wilderness: An Elegy for Swift River Valley, (Haley's) and Finding the Bear (Perugia). Her poems have appeared in more than 30 literary journals and anthologies. She has won the Robert Hearst Prize and the Pat Schneider Prize for poems that appear in her book, Waving Back, which will be published by Word Tech's Turning Point imprint in 2015.
Thomas is the recipient of writing and teaching grants from the Massachusetts Cultural Council and the Ludwig Vogelstein Foundation, and was awarded residencies at the MacDowell Colony and Ucross. She was a founding artist and trainer for the Massachusetts Cultural Council's Elder Arts Initiative and has collaborated with artists across the state for workshops and performances. Thomas has led community writing workshops at schools, hospitals, libraries and senior centers, as well as private poetry craft workshops. Thomas is a learning specialist and teaches at Smith College.
In conjunction with the Student Life Film Series, the documentary "Malala: A Girl from Paradise" will be presented on Wednesday, March 11 at 12:30 p.m. in the North Café. This documentary is about Pakistani education activist Malala Yousafzai, the youngest-ever Nobel Peace Prize nominee who survived an assassination attempt at age 15 for her determined efforts to defend girls' education in Pakistan, after the Taliban outlawed schools for girls in her native Swat Valley.
The Women's HerStory Project will return with a display in the South Cafe. Students in Professor Susan Goldstein's Journalism 1 class and the office of Student Life will display photos with feature articles of MWCC faculty and staff who play an important role in the lives of students. The women featured in the HerStory project will be recognized during a Women's Appreciation Day event on Wednesday, March 26.
Singer-songwriter Christa Gniadek will perform during the Women's Appreciation Day event on Wednesday, March 26 from 12:30 to 1:30 in the South Café. Described as a performer with the robust, velvety vocals of Norah Jones, the folk-pop elements of Anna Nalick and the quirky poeticism of Ingrid Michaelson, Gniadek's minimalist musical style and clever lyricism is unexpected even in someone mature beyond her 24 years.