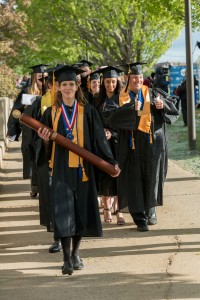 Unlike Mount Wachusett Community College's first commencement in 1966, when 71 graduates received associate degrees in six academic programs, the college this year awarded 842 associate degrees and academic certificates to 785 graduates enrolled in nearly 50 program options.
During the college's 50th commencement on May 20, President Daniel M. Asquino asked the graduates to reflect on their accomplishments and their journey ahead.
"Lives change here like nowhere else. Over the past 50 years, tens of thousands of students have crossed this stage and they are now contributing members of our communities," he said. "I challenge you to go forward and use your skills and the education that you received to continue these pursuits and to improve your life, that of your family and friends and that of our community, your state and your nation, and that you manifest an overall behavior that generates happiness, goodwill and contagious optimism."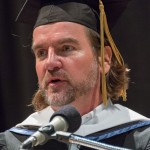 Keynote speaker and 2015 Alumnus of the Year Award recipient Kevin Berg urged the graduates to embrace change, persist toward their goals with drive, determination and desire, and accept the help and support of others as needed."To me there can be no greater honor than being asked to give the Commencement address at the institution that started me on my path in becoming the person I am today," said Berg, who grew up in Gardner and is now executive vice president of production for CBS Network Entertainment in Los Angeles. "My path clearly had its genesis right here at Mount Wachusett."After studying broadcasting and communications at MWCC, he worked for six months at a news station in Boston. In the summer of 1984, he moved to LA, where he landed a job in television production and quickly moved up the ranks working with award-winning director Marty Pasetta and then at CBS.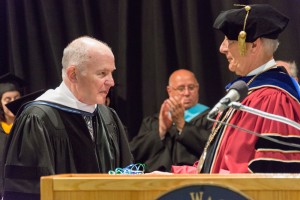 MWCC also presented business leader, philanthropist and college advocate James O. Garrison with an honorary doctorate in Humane Letters and the 2015 Service Above Self Award. The award recognizes those who have made significant contributions to MWCC and the 29 North Central Massachusetts cities and towns that make up MWCC's service area. In addition to extensive community service, Mr. Garrison is a former chair of the college's Board of Trustees and benefactor of the Garrison Center for Early Childhood Education and Early Childhood Education scholarships."His philanthropic endeavors have resulted in countless improvements and changes to MWCC that have enhanced the learning environment for college students and children and the vital role the college plays in the community," President Asquino said.
Student speaker Yasmine Kanaan of Still River, a Business Administration major, shared her poignant story of how MWCC helped her overcome obstacles, redirect her life and discover her potential.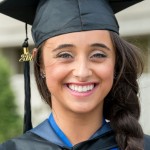 "My rise was not easy, and my journey continues as I work hard to better myself and put the pieces of my life back together," she said. "I have gone from a lost young adult with no goals and no identity, to a student with a high GPA, an associate's degree in business that I was able to complete in one year, and an acceptance to the University of Massachusetts Lowell. This was all possible because this college embraced me and opened so many doors for me. We all owe this day and our success to the Mount for creating that stepping stone, that opportunity for each of us to be able to have a better and brighter future, for creating an environment that makes it easy to transition back into school, and for faculty who are very willing to help and advise us in any way they can."
Student Trustee Phillip M. Stan was presented with the Trustees' Award. Bryce Bodley-Gomes of Ashburnham and Cindy Caron of Jaffrey, N.H. received President's Keys. John Day of Gardner was presented with this year's Dean's Key.
Five retiring professors were awarded emeriti status: Joel Anderson, Media Arts & Technology; Paul Laverty, Mathematics; John McNally, Health Sciences, Fitness & Wellness; Elena Natalizia, Criminal Justice; and John Reilly, Business Administration.