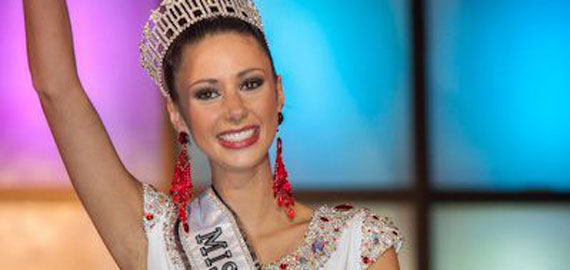 MWCC Dental Hygiene student Sarah Kidd is the newly crowned Miss Massachusetts USA. The 20-year-old Leominster resident won the title on Nov. 18 at Lowell Memorial Auditorium in Lowell, and will now go on to represent Massachusetts in the Miss USA 2013 pageant this summer.
Ms. Kidd, who entered the competition after being named Miss Central Massachusetts USA, is in her second year of dental hygiene studies at MWCC and works as a model for agencies and the e.l.f. Cosmetics company. She plans to pursue a career in dental hygiene after graduating in May 2013, and also appreciates the new opportunities the latest achievement will bring. The Miss USA and Miss Universe pageants are co-owned by Donald Trump and NBC Universal.
"It's very prestigious and a great opportunity," said Ms. Kidd, who first entered the pageant in 2010 and was second runner up last year. "I set my goals and worked toward it. It's an opportunity of a lifetime and you can basically make whatever you want out of it." She is anticipating "a whirlwind of a year" between completing her studies and appearing at events throughout the state.
"We're very happy for her," said Anne Malkasian, director of the Dental Hygiene program. "She's an excellent student, she's very engaging and she's very dedicated." MWCC's Dental Hygiene program works with the Community Health Center in Fitchburg to provide training for the students and dental care for area residents. "She treats a lot of patients who have barriers to dental care through the Community Health Center and she really feels good about that," Ms. Malkasian said.
During the competition, Ms. Kidd was asked on stage about her work with patients at the center.
"It's a really great opportunity because we get to learn firsthand what we see in textbooks, and we're serving a community that really wants the help, so it's really rewarding. At the end of the day, we help people who really appreciate the care."
The goals of the Miss Massachusetts USA pageant include opening doors and providing career and educational opportunities to all of the young women who participate; involving contestants and titleholders in community service programs and charities; increasing literacy throughout Massachusetts as the special cause of the Miss Massachusetts USA pageant; raising awareness about breast cancer and ovarian cancer in conjunction with Miss USA; and promoting the Youth Anti-Drug Campaign in conjunction with Miss Teen USA.