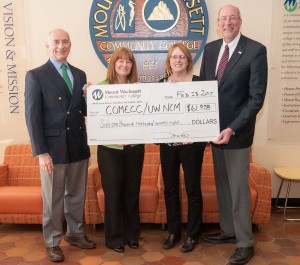 Mount Wachusett Community College faculty and staff have donated $61,978 to the 2015 Commonwealth of Massachusetts Employees Charitable Campaign (COMECC) and the United Way of North Central Massachusetts. Over the past five years, college employees have contributed more than $309,000 to aid those in need.
"I am very proud of the generosity our faculty and staff demonstrated during this campaign and past campaigns," said President Daniel M. Asquino. "Collectively, the contributions made by Mount Wachusett Community College employees greatly benefit residents in our region and throughout the Commonwealth. This represents a huge investment in our communities," he said.
The annual campaign at MWCC is coordinated by the college's Human Resources office, with Director of Payroll and Benefits Connie Helstowski serving as campaign chair and Staff Assistant Nancy Thibodeau serving as campaign coordinator.
Established in 1984, COMECC gives state employees the opportunity to support private, nonprofit health and human services and environmental organizations. Each year, more than $2 million is raised statewide to assist children, families and communities in Massachusetts, as well as national and global charitable endeavors.