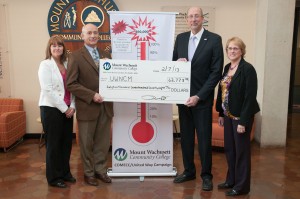 Charitable giving by Mount Wachusett Community College employees topped $62,000, exceeding the college's goal for the year. Through voluntary one-time donations and payroll deductions, and various on-campus fundraisers, faculty and staff pledged a total of $62,778 to the 2013 Commonwealth of Massachusetts Employees Charitable Campaign (COMECC) and the United Way of North Central Massachusetts.
"I am very proud of the MWCC community and the generosity demonstrated during this campaign," said college President Daniel M. Asquino. "Collectively, the contributions made by MWCC employees will greatly benefit residents in our region and throughout the Commonwealth. There is great need in the community, and this represents a huge investment in making a difference in the lives of others," he said.
 The annual campaign at MWCC is coordinated by Connie Helstowski and Nancy Thibodeau in the college's Human Resources department. This year's goal was $60,000.