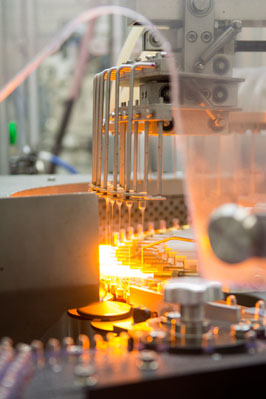 The long-standing collaboration between MWCC, the North Central Massachusetts Workforce Investment Board, and industry is showcased as a model demonstrating best practices for building and sustaining regional partnership in a new video created by the Advanced Manufacturing Regional Partnership Academy (AMRPA).
MWCC, known for its well established partnerships with corporations such as Nypro and Bristol-Myers Squibb and the recipient of a recent $15.9 million, multi-state grant from the U.S. Department of Labor, is featured in the video along with the North Central Massachusetts Chamber of Commerce, the North Central Workforce Investment Board and Nypro, Inc.
MWCC's vice President of Lifelong Learning Jacqueline Belrose; Dean of Workforce Development John Henshaw; Kathleen Kirby, National Consortium Project Manager of of the TAACCCT-funded Advanced Manufacturing & Quality Consortium, are among the college officials interviewed in the video. The video was one of three unveiled during an AMRPA meeting in June.
The academy brings together manufacturers, workforce investment boards and academia to help regions throughout the state develop sustainable and effective partnerships that respond to industry needs.
Established by Gov. Deval Patrick in 2013 to accelerate the adoption of best practices, capacity building and industry engagement, the academy is a collaborative effort of the Advanced Manufacturing Collaborative, the Executive Office of Housing and Economic Development, the Executive Office of Education, the Executive Office of Labor and Workforce Development, and the University of Massachusetts. The academy is funded by MassDevelopment through the Advanced Manufacturing Futures Fund.