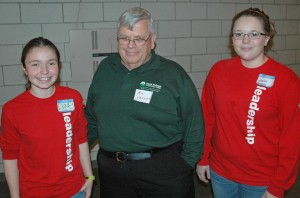 As a group of 120 Fitchburg High School students energetically participated in a series of leadership training activities on Jan. 8, educator Richard Vaughn had this to say: "Two words – mentoring works."
"There are a lot of great kids out there. Helping them recognize the have the skills and potential to be great leaders – that's the difference," said Vaughn, who works with the students through the GEAR UP partnership between the high school and Mount Wachusett Community College.
The students in grades 9 through 12 participated in the seminar led by the Student Leadership Training Program, an all-volunteer organization that is sponsored by the Coalition for the Advancement of Student Activities, Inc., a nonprofit organization. The program was sponsored in partnership between MWCC's Division of Access and Transition and Fitchburg High School.
The intensive day included leadership assessment, training and guidance on the methods for making a positive and lasting change in their school and their community. Lea Ann Scales, vice president of Access & Transition at MWCC, and FHS Principal Jeremy Roche, welcomed the students and congratulated them on being selected for the program.
The world's problems are complex and overwhelming, and no leader is expected to resolve them alone, Roche told the students. But if each person reached out to help someone in need, lives and communities can be transformed, he said. "As President Ronald Reagan once said, 'We can't help everyone, but everyone can help someone.' "
The group of students included freshmen and sophomores who are current participants in GEAR UP (Gaining Early Awareness and Readiness for Undergraduate Programs), as well as juniors and seniors at the high school. In 2010, MWCC and Fitchburg Public Schools received a multi-year grant from the U.S. Department of Education to extend its long-standing GEAR UP program in the city's middle and high schools.
Each student was selected by a teacher, advisor or coach to participate in the seminar based upon leadership traits they have already demonstrated.
Andrew Goodwin, director of the GEAR UP program at MWCC, called the event a "soup to nuts leadership training" geared toward preparing students to be active leaders in their school and in the community.
STLP was established in 1990 by Helen and Jim Fitzgerald of Marshfield. Since its founding, more than 13,000 students, primarily in the Northeast, have participated in its programs and conferences that focus on the basic elements of unconditional acceptance and mutual respect. Many of the Fitchburg High School students have participated in SLTP events in the past, including a leadership conference in November held at Nichols College. This was the first time the organization brought its program directly to Fitchburg High.
The student participants clearly enjoyed the experience. "The SLTP program gave me the opportunity to make a difference and to be in an atmosphere of comfort and belonging that is rare in such a big group," said sophomore Lizzy Moison. "It is a chance to do what I really love."
Sabrina Hyvarinen, also a sophomore, said she is hopeful the training event will have a positive impact at the high school and in the community. "We are gaining skills and being empowered to know that we can change other students' lives in a positive way."