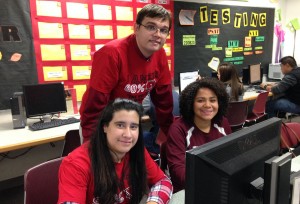 A majority of Fitchburg High School seniors will celebrate Thanksgiving with more than a meal under their belts. By the holiday, more than 92 percent of the class will have submitted their college applications for fall 2016.Mount Wachusett Community College and Fitchburg High partnered to bring the Massachusetts College Application Celebration to the school this week. This is the fourth year Massachusetts has participated in the national initiative spearheaded by the U.S. Department of Education's GEAR UP program and the second year the event has been held at FHS.
By the morning of Day 2, the class had exceeded the event's 90-percent goal and was well on its way to reaching the high school's 100-percent goal.
"The Massachusetts College Application Celebration has been a great opportunity to motivate and excite our students about a crucial part of the college success process," said High School Principal Jeremy Roche.  "The ultimate goal of having 100% of our seniors apply to college before graduation reinforces the high expectations we have as a school community. This event highlights that college and career readiness is the goal for every FHS student," he said. GEAR UP (Gaining Early Awareness and Readiness for Undergraduate Programs) is administered by MWCC's Division of Access & Transition in partnership with the high school through a grant  from the U.S. Department of Education. The majority of students in the graduating class of 2016 have received intensive college access and success services since middle school. With so much preparation behind them, students were eager to participate in the application challenge this year, said MWCC GEAR UP Director Andrew Goodwin.
Specific services include academic counseling, tutoring, homework support, after school academic and social activities, college awareness and financial aid workshops MCAS, PSAT/SAT preparation, and college admissions assistance.
By encouraging high school students to apply to college early in their senior year, they are more likely to apply to several schools and find the best match for their academic goals, said Lea Ann Scales, MWCC Vice President of External Affairs, Communications and K-12 Partnerships.
"We've been doing a lot of good work to help them succeed in middle school and high school, and we're coming to the point where it all pays off. They have a lot of milestones this year – applying to schools, being accepted and receiving financial aid packages, and ultimately enrolling. We're extremely proud of these students," she said.
Damon Thammalangsy, who plans to study business at the University of Texas, said GEAR UP has helped him navigate through the steps of applying for college, financial aid and scholarship while developing leadership skills. "It opened a lot of opportunities for me."
Inspired by her mother, Jaelyn Sanchez, plans to study psychology and ultimately earn her master's degree and pursue a career working with children with autism. While earning her degrees, she is also following in her grandfather's footsteps, serving in the U.S. Army Reserves.
Carolina Silvera is preparing to enroll in MWCC's Pre-Healthcare Academy, which leads students directly into the college's nursing program following a year of co-requisites. The GEAR UP program not only helped her transition to college, but transition to the U.S. after moving from Uruguay a year ago.
The GEAR UP team "was there for me every step of the way," said Whitney Bailey, an aspiring attorney. "They are more than staff, they become mentors."