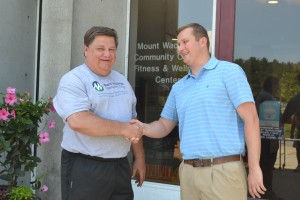 After nearly two decades at the helm of the Mount Wachusett Community College Fitness & Wellness Center, Director Steve Washkevich retired in June. Members of the college and fitness center community paid tribute to his 18 years of service during the Silver Sneakers program's annual barbecue on June 22. The community also welcomed the center's incoming Director Jared Swerzenski.
Washkevich, who was appointed a year after the facility was converted into a community fitness center, said the center appeals to patrons of all ages and fitness levels due to its large size, wide variety of program offerings, state-of-the-art equipment, indoor swimming pool, and personalized training.
"You can get personal training, you can swim, play basketball, and racquet ball. It's a great family place, where parents can work out while their children are at the indoor playground or doing other activities."
Prior to coming to Mount Wachusett, Washkevich was the director of athletics at Anna Maria College for over 20 years. He earned his bachelor's degree in Health and Physical Education and his master's degree in Education Administration and Leadership from Bridgewater State University. In retirement, Washkevich plans on spending more time with his family, which includes his wife, three daughters and a grandchild.
"It's been a great experience for me and hopefully everybody else feels the same. The members have been great and I've built a lot of friendships."
Incoming director Swerzenski most served as the director of intramurals and assistant director of facilities at Framingham State University. Previously, he was the athletic director at North Central Charter Essential School in Fitchburg, now the Sizer School, and associate director of East Coast Field Admissions at Post University in Waterbury, CT.
Swerzenski attended Clark University, where he received a bachelor's degree in Communications and Culture and Urban Development, and a master's degree in Professional Communications. He also played varsity soccer for four years.
MWCC's 60,000-square-foot facility includes a six-lane, Olympic sized swimming pool; more than 40 fitness programs; a nursery; summer sports camps; three full-size, indoor basketball courts; outdoor tennis and basketball courts; a 200-meter outdoor track; two regulation racquetball courts; and state-of-the-art weight training and cardiovascular equipment.
Programs are available for people of all ages and abilities and include personalized nutrition classes, body composition testing, weight training, massage therapy, personal training and yoga. In addition, the center's group exercise programs are free to members and offers more than 50 classes a week led by certified trainers, including Zumba, Centergy, water aerobics and yoga.