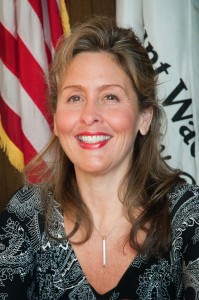 Carla DeFosse of Princeton has been appointed executive director of Mount Wachusett Community College Foundation, Inc., bringing experience in nonprofit management and development, public service, fundraising, strategic planning and renewable energy.
A lifelong resident of North Central Massachusetts, DeFosse was unanimously appointed by the foundation's board of directors and joined the college community on January 14. She replaces former director Darlene Morrilly, who retired after 10 years of service to the foundation.
"We are delighted to have Ms. DeFosse join Mount Wachusett in this key, community-focused position. She brings a breadth of experience and commitment to education, the community college mission, and to the residents, businesses and organizations in our region," said MWCC President Daniel M. Asquino.
DeFosse said she is excited to continue the work of the foundation during a pivotal time in the college's history as it prepares to celebrate its 50th anniversary, is in the design phase of a $38 million science and technology building, and continues to implement new programs to support local, state and national initiatives geared toward enhancing student success and economic development.
She views the college as a place where students come to "empower themselves and improve their lives through education." DeFosse plans to continue the foundation's focus on community partnerships, support for students through scholarship funds, support programs and access and transition programs.
"Through my work in the community, I have witnessed the incredible, positive impact that Mount Wachusett Community College has had on our region. Community colleges are critical to the economic viability of the areas they serve. As the cost of four-year colleges and universities become prohibitive for many students, community colleges are a great place to begin academic studies before transferring, or to start and finish programs that train for direct employment in the workforce," she said.
The MWCC Foundation has grown exponentially since it was established more than 40 years ago. In 1971, the foundation awarded $259 in scholarship funds to MWCC. Today, the foundation awards more than $260,000 annually in scholarship funds, as well as additional support for college and community initiatives.
Since April 2011, DeFosse served as chief advancement and external affairs officer and director of the Housing Consumer Education Center for RCAP solutions, a nonprofit organization specializing in low income housing development, rural environmental engineering and other social and homelessness programs in New England, New York, Pennsylvania, Puerto Rico and the American Virgin Islands.
Previously, she served as aide to Massachusetts State Senator Harriette Chandler from 2009 to 2011, serving as a special advisor for constituent service and local renewable energy projects. From 2002 to 2011, she was the managing director of Mount Ridge Realty Development, a management and development company with residential and commercial holdings. She also worked as a business consultant and educator for the Center for Women and Enterprise in Worcester, and owned and operated the Mountain Barn restaurant for 12 years in Princeton.
DeFosse double majored at UMass Amherst, where she earned bachelor's degrees in management and entertainment development. She earned a graduate certificate in Women in Politics and Public Policy from the UMass Boston McCormack School of Public Policy, and furthered her education in the area of renewable energy through a series of courses at MWCC. She lives in Princeton with her husband and daughter.