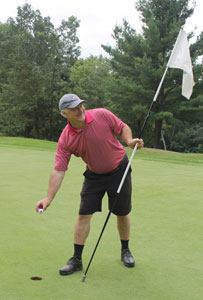 Mount Wachusett Community College Foundation's 17th annual golf tournament raised a record $55,000 for student scholarship funds.
One lucky participant, Joe Crowley, scored a new Cadillac for making a hole in one from a distance of 185 yards. Joel Baker of Baker Cadillac of Leominster, one of the tournament's sponsors, had offered the prize for the past three years for a golfer who achieved the feat. This is the first year a player made the shot.
The tournament, held July 23 at the Sterling National Country Club, drew 120 golfers from throughout the region. The team winning the first place scramble was Gene Morrill, Jim Diamond, Bill Lavis and Donald Scarbrough of SimplexGrinnell. The team winning the first place scramble gross was Ron Dade, Chris Williams, Steve Stanitis and Paul Gallo.The team winning best ball first place was Jack Doolin, Jack Ford, Doug Peterson, Rich Rogers from Workers Credit Union.
Over the past 17 years, the annual tournament has raised $660,000 for student scholarships. MWCC Foundation allocates more than $260,000 each year in scholarship funds. In addition to Baker Cadillac, sponsors included Beauregard Liquors, Bemis Associates, Ron Ansin and family, Laddawn, Inc., SimplexGrinnell, and Rollstone Bank & Trust.
The support from golfers and sponsors "allows us to provide our students with what they deserve – which is the very best," MWCC President Daniel M. Asquino said. "We are most grateful to all of our sponsors for their support."
"I am thrilled with the outcome this year," said Foundation Executive Director Darlene Morrilly. "The weather was perfect, the field played in five hours, revenues were the highest ever, and the auction was the largest to date. To have someone get a hole-in-one is truly a highlight of the tournament. Everyone wins – our students, the college, and the community."