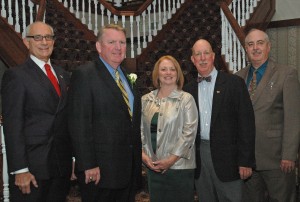 Martin F. Connors, Jr., president and CEO of Rollstone Bank & Trust and a long-serving volunteer in North Central Massachusetts, was recognized as the 2012 Harold E. Drake Jr. Citizen of the Year by Mount Wachusett Community College Foundation, Inc. The Leominster resident was honored during the foundation's annual dinner on Oct. 18 at the Colonial Hotel in Gardner. Outstanding MWCC students who receive scholarship funds also were honored.
"Being a citizen and member of the community comes with responsibilities," said Mr. Connors, who encouraged the 300 community members and students to remain active and involved in issues they find important. The honoree was joined at the dinner by his wife, Kathleen and their family, as well as numerous friends from throughout the region.
MWCC President Daniel M. Asquino congratulated Mr. Connors on the award, and noted the many attributes he shares with past award recipients. "All of these individuals chose to ask 'what if' rather than 'what is.' They chose to challenge assumptions and re-examine old ideas. All of these individuals look for opportunities from challenges. They were and are attentive to what other people and their community needs. All of these people were and are action orientated. They view their time as currency worth spending on projects that benefit their families, their business and their community. They are change agents."
Jay Davis Drake, who previously served on the foundation board and as chair of the MWCC Board of Trustees, presented the award in memory of his father, Harold Drake, treasurer and former president of Royal Steam Heater Co. and Lynde Hardware & Supply, Inc. The award recognizes community members who exemplify Mr. Drake's extraordinary commitment to the North Central Massachusetts region.
Among his community activities, Mr. Connors serves as a director and past campaign chairman of the United Way of North Central Massachusetts, as trustee and audit committee chair for HealthAlliance Hospital, as vice chairman of the board of trustees for Fitchburg State University, as governor of the Diocesan Expansion Fund of Worcester, and as a finance committee member at St. Leo's Parish in Leominster. He also serves on numerous professional organizations, including SBLI of Massachusetts and the Massachusetts Bankers Federal Liaison Committee, and is the immediate past chairman of the board of the North Central Massachusetts Chamber of Commerce. He previously served on the boards of Habitat for Humanity North Central Massachusetts, the Community Foundation of North Central Massachusetts, Our Father's House, and other organizations.
Since its inception in 1846, Rollstone Bank & Trust, previously known as Fitchburg Savings Bank, has reinvested profits in the community to help create jobs and move the economy forward. Through its Rollstone Charitable Foundation, the bank has given more than $700,000 to local charities and nonprofit organizations, including MWCC to support workforce training and development, Fitchburg State University, HealthAlliance's Cancer Center, and the American Red Cross.
During the event, the foundation also recognized Darlene Morrilly, who is retiring this month after 10 years as the foundation's executive director. Under her leadership, the foundation has grown substantially and now awards more than $262,000 annually in scholarships, along with additional support for college and community initiatives.
"We could not do this without so many of you who are here tonight," she said. "It's been a wonderful 10 years. None of us would be here tonight if it weren't for the students."
Neisha Boulanger, a mother of three who graduated from MWCC in May with a degree in Human Services, was the student speaker. Ms. Boulanger, who was the recipient of the Arthur F. Haley Scholarship and the Millie McGuire Foundation Scholarship administered through the MWCC Foundation, said the support she received helped her achieve her goal of earning her degree while balancing her coursework with extracurricular activities and home life. She is now serving the college as an AmeriCorps member and continuing her education.