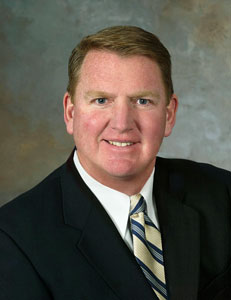 Mount Wachusett Community College Foundation, Inc. will honor long-serving community volunteer Martin F. Connors, Jr. as the 2012 Harold E. Drake Jr. Citizen of the Year.  Connors, President and CEO of Rollstone Bank & Trust, will be recognized during the foundation's annual dinner on Oct. 18 at the Colonial Hotel in Gardner. Outstanding MWCC students who receive foundation scholarship awards also will be honored.
The Citizen of the Year Award is presented in memory of Harold E. Drake, Jr., treasurer and former president of Royal Steam Heater Co. and Lynde Hardware & Supply, Inc. The award recognizes community members who exemplify Harold Drake's extraordinary commitment to the North Central Massachusetts region.
"Marty Connors contributes an enormous amount of his time, energy and expertise serving the North Central Massachusetts community, particularly in the areas of education, health care, and economic development," said MWCC President Daniel M. Asquino. "His leadership in these critical areas, as well as his support for many other community organizations, benefits the residents of our region in myriad ways and serves as a great example for our students to find ways to volunteer their skills to benefit others. We are proud to recognize him as our 2012 Citizen of the Year."
Among his community activities, Connors serves as a director and past campaign chairman of the United Way of North Central Massachusetts, as trustee and audit committee chair for HealthAlliance Hospital, as vice chairman of the board of trustees for Fitchburg State University, as governor of the Diocesan Expansion Fund of Worcester, and as a finance committee member at St. Leo's Parish in Leominster. He also serves on numerous professional organizations, including SBLI of Massachusetts and the Massachusetts Bankers Federal Liaison Committee, and is the immediate past chairman of the board of the North Central Massachusetts Chamber of Commerce. He previously served on the boards of Habitat for Humanity North Central Massachusetts, the Community Foundation of North Central Massachusetts, Our Father's House, and other organizations.
"I'm honored to be recognized," Connors said. "Without the support of the Rollstone Board of Directors and fellow co-workers, I would not be in a position to do the many things that I do. Personally, I find it very interesting and a real learning experience, but I also feel good when these organizations are able to help people. Two key industries for this area are education and health care. These are two economic engines that at times seem to be overlooked, but are significant contributors to our local economy."
Prior to joining Rollstone Bank & Trust, Connors was a partner at Reagan & Company LLP, a regional CPA firm. He also worked at Safety Fund National Bank, beginning as controller and working up to chief financial officer.
Since its inception in 1846, Rollstone Bank & Trust, previously known as Fitchburg Savings Bank, has reinvested profits in the community to help create jobs and move the economy forward, Connors said. "To this day, the decisions we make are based on what is good for the community, as well as the bank." The bank has branches in Fitchburg, Leominster, Worcester, Townsend, and Harvard.
Through its Rollstone Charitable Foundation, the bank has given more than $700,000 to local charities and nonprofit organizations, including MWCC to support workforce training and development, Fitchburg State University, Health Alliance's Cancer Center, and the American Red Cross.
A second-generation American and dual Irish/American citizen, Connors' grandparents emigrated from Ireland during the turn of the 20th century for greater opportunity and settled in Fitchburg. Connors graduated from St. Bernard's Central Catholic High School in Fitchburg, and earned bachelor's and master's degrees from Bentley University. He also attained a certificate with honors from the Graduate School of Banking at the University of Wisconsin. He and his wife, Kathleen, have two children, Martin III and Kelly.
The MWCC Foundation annually awards more than $260,000 in scholarship funds to students. Tickets to the annual foundation dinner are $75 per person. A social hour will begin at 5:30 p.m. followed by dinner at 6:30 p.m. Reservations are required and may be made by contacting Jessica Connors.