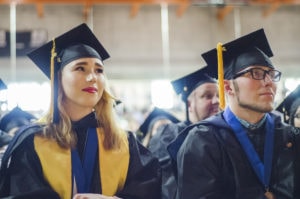 On Friday, May 19 Eden Shaveet graduated with her high school degree and Associate's degree after thinking just a few years earlier that she would never return to school.
Shaveet left traditional school at the age of 14 and never thought she was going to get her high school diploma let alone her Associate's degree that she earned through the program. Shaveet reclaimed her education at the Gateways program and exceed all expectations, achieving recognition on the President's List for maintaining a perfect 4.0 GPA throughout her entire college career and becoming an integral part of campus life as a Student Leader in Civic Engagement. She will be attending Elms College in the fall to pursue her baccalaureate degree.
During her speech, Shaveet highlighted the need for continued support for programs like Gateway to College:
"Hi. My name is Eden Shaveet. I'm 19 years old. I'm a Gateway student, I work at the college, and I love what I do.
That's how I usually introduce myself to people. But today I thought I would introduce myself in a way I haven't yet done before.
So Hi. My name is Eden Shaveet. I'm 19 years old. And I have attended 9 different schools throughout my lifetime. By the age of 12, I had been subjected daily to verbal and physical harassment by my peers to the point that I no longer wanted to attend school. At 13 I was shoved into a locker. At 14 I left school. By 15 I was purchasing and using substances I acquired from people in parking lots. At 16, I had adopted self-harm as my only means to cope. And at 17 I had lost all hope in myself.
Not as happy as the first intro, right?
But that's the reality. And it's a similar reality to those experienced by a lot of people, many of whom you may have never expected it from. And that makes us uncomfortable, right? So we don't talk about it. And that creates a silence that often goes unacknowledged.
But it's from that discomfort and from that silence that we are able to recognize the flaws in our perceptions that ultimately lead to the flaws in what we consider to be normal, appropriate, fair, and acceptable in our society.
Given my background as a former dropout and my current work in local public schools, I consider myself to be an advocate for education. And through this work, drawing from both personal experience and observation, something has made itself glaringly evident: As it currently stands, the education system in this country as a whole, inherently places certain populations of students at a significant disadvantage.
Populations such as students from low-income households, students who are first generation, students who dropped out or are at risk of dropping out, students who are disengaged from their communities, students who are bullied – all of these students are being underserved by a system intended to educate them equally and fairly, and it is the job of programs like Gateway to College, Talent Search, Upward Bound, and Gear Up to even the playing field and provide opportunity to these students that may not have been granted to them otherwise. Yet there are still people who believe that these programs lack meaning and value. There are still people who refuse to see any purpose in providing support to students in this capacity. In my everyday life, I have encountered people who have challenged me to defend the significance of the programs I have been a part of and worked for, with no intent to listen, and every intent to refute. Someone once even challenged me to defend Gateway to College as an alternative route to education, because they believed that as a student, I should have just been able to "stick it out" in my previous circumstances and to stop seeking assistance that wasn't necessary. Well from a student's perspective, I can tell you with the utmost amount of certainty that in the absence of such outreach programs I would not be where I am today and the fact that we have to fight to keep these programs functioning in our schools and communities is absurd.
According to a recent Gateway to College National Network study, the average GPA of students before they entered the Gateway program was a 1.62 on a 4.0 scale. By the end of their first term in the Gateway program, 83% of these same students earned a higher GPA than they had earned in high school, with over an entire grade-point improvement.
It is by unfortunate design that students of particular circumstances slip through the cracks in our education system, but it is contrary to such designs that programs like Gateway to College catch us before we fall, despite the barriers put in our way.
It's no secret that barriers to opportunity emerge very early in life and that these barriers are highly indicative of a person's likelihood to attain future success. Sometimes these barriers emerge in early childhood and sometimes they emerge even before a person exists, like a circumstance they were born into that they had no control over such as a lack of resources in an area they grew up in, that other areas or school systems did have access to. In our culture of desiring the "American Dream," we've adopted this idea that if you want something badly enough, you can just work as hard as everyone else, and get it, right? But here's the unpopular reality: Sometimes wanting it isn't enough. Some people will never attain their aspirations due to the sheer fact that they lacked the support systems and opportunities that other people had readily available to them. The work of programs like Gateway to College and other outreach initiatives provide the resources we might not have otherwise received, and we are better off for it. We have to invest in our kids, invest in education, and support programs like Gateway to College, and so long as I'm around, so help me God, there will always be an advocate.
I'm eternally grateful to Gateway to College, and to Mount Wachusett for being a platform to offer this program to students like me who had nowhere else to turn. Thank you for opening your doors to me two years ago when any other school would have slammed them in my face.
I'm thankful for everyone who works in the division of Access and Transition, but especially to my resource specialist Sharmese Gunn for being my second mom whether I liked it or not.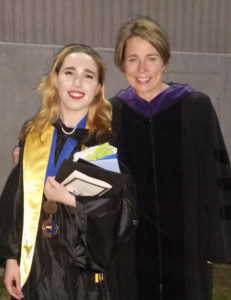 Because of you I am finally a high school graduate, a college graduate with my associate's degree, and an accepted student on her way to a four year degree and beyond – a feat that could not have happened in the absence of these programs. None of this would have been possible without the tireless and often thankless work you have all dedicated your lives to. Thank you for giving me a chance, for seeing something in me that I couldn't see in myself, for always encouraging me to embrace my story rather than hide it, and to always question "the norm."
If there is anything I have taken away from all of you, it is this sentiment that I will now pass on to any student in the audience who is unhappy with where they are in school, or feels like they're seen as nothing more than a number: Do not be afraid to be the only voice willing to question common practice. Because in many cases, the practices we have accepted as common and "the norm" are in fact the obstacles they claim to be averting. Do not be afraid to stand up, even if you are standing alone. You are more than what this system has predetermined you to be. Take that, and run with it.
And run with this:
In a system where over 1 million students will drop out of high school next year, where over 3.2 million students will be the victim of bullying while in school, where 1 out of every 4 students will exhibit the symptoms of mental illness as the result of chronic stress, and where 32% of traditional high school graduates in 2011 chose to not pursue higher education, but 73% of Gateway to College graduates did, allow my story, and the story of every Gateway to College graduate in this theater, across this State, throughout this country, past, present, and future be a testament to the idea that maybe, the problem is not with the student.
Thank you all so much, and congratulations to the class of 2017."