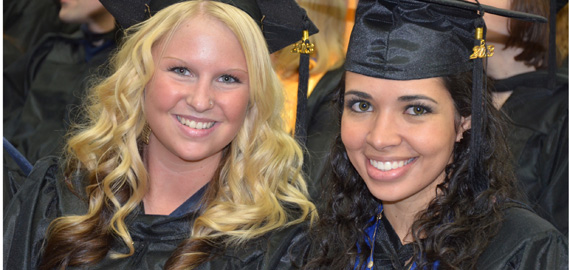 Students eager to celebrate their academic success and embrace the next chapter in their lives joined friends and family during Mount Wachusett Community College's 48th Commencement ceremony May 16 in the Fitness and Wellness Center. A total of 805 associate degrees and academic certificates were awarded to 752 graduating students.
Distinguished media executive and MWCC alumnus Robert Regan delivered the keynote address. Regan, who studied broadcasting and communications at the old Elm Street Campus and was among the first class to graduate from the new building in 1975, went on to work as a producer in Boston and Hollywood for 38 years before recently being named founding director of the Dr. John Keshishoglou Center for global Communications Innovation at Ithaca College.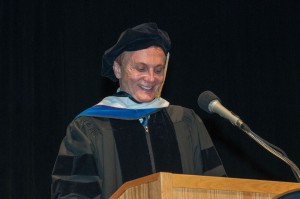 "I urge you to dream big dreams and make them happen. You'll find that having a support team will not only keep your dream alive, but also help you bring it to fruition. We can't do it alone; be open to collaboration; be inspired to dream. And let the people that you trust in on your dream. Don't be afraid. Walk face first into that risk. Imagine a more perfect world than the one you live in. Then engage in making that happen."
Regan, who was named MWCC's Alumnus of the Year in 1989, was awarded an honorary doctorate in the humanities during this year's ceremony.
President Daniel M. Asquino encouraged the students to envision where they would like to be in 10 years and focus on ways to achieve those goals. He noted that this year, the graduating class devoted over 48,000 hours of volunteer service to the region.
"Has your life to this point contributed to the growth of humankind in a positive manner? As you enter the next phase, what is your commitment to enlarging the circle of good and making certain that when that final chapter of your life is over, you have left your family, your colleagues, your community, and your nation in a better place because of your actions and your compassion?"
Tina Sbrega, chair of the Board of Trustees, presented the Trustees Award to Human Services major Christine Eck, who served this past year as student trustee and was also a recipient of the state Department of Higher Education's 29 Who Shine award for her academic achievements and contributions to the Commonwealth of Massachusetts. The Dean's Key was presented to Bridgette Woodcock, president of the Student Government Association, active volunteer on campus and in the community. After receiving her associate degree in General Studies Allied Health, she will continue her studies next year in MWCC's Nursing program. Four students were recognized as recipients of the President's Key award for academic achievement: Liberal Arts and Sciences majors Claudia Elbourn and Heidi Villaran; Computer Information Technology major Zachary Raboin and Early Childhood Education major Darri Wenning.
Emerita status was awarded to retiring staff member Senior Vice President of Access, Transition & Development Sharyn A. Rice after 25 years of service. Rice was also awarded an honorary doctorate in humanities.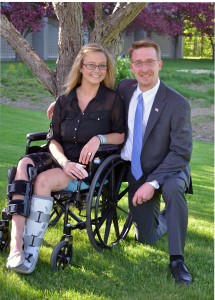 Christopher P. Brown, a physical therapist assistant and former firefighter with the U.S. Air Force, was recognized as the 2013 Alumnus of the Year. Brown was recognized by the Commonwealth of Massachusetts and Westminster public safety officials earlier this year for his heroic role at the scene of a car accident.Brown encouraged the graduates to embrace the moment and to continue striving for more. "You have all worked very hard to get to this day. Take a few moments to reflect on your achievement. This is the moment where your desire to achieve has been proven, and your ability to perform has been met. Now is the time for you to have the courage to put ability into action. Be proud of what you have accomplished."
The Service Above Self Award was presented to long-serving community volunteer Raymond LaFond, senior vice president for commercial lending and business development at Enterprise Bank. Mr. LaFond accepted the award on behalf of the many residents he has worked with on various community causes.
For more Commencement photos, visit MWCC's Facebook page.
-Stephanie Nebes