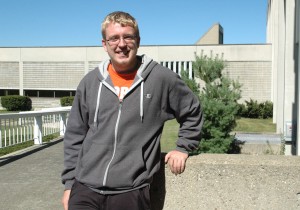 Mount Wachusett Community College's dual enrollment programs are showcased as innovative models in the Rennie Center for Education Research & Policy's second annual report, the Condition of Education in the Commonwealth. The report, released January 22 by the Cambridge-based research institute, examines areas of success and areas for continued improvement in student outcomes across the education pipeline, from birth to college and career success.
The report notes MWCC's record of success and its potential to serve as a model for other communities across  Massachusetts, citing as examples the Gateway to College program for students at risk of dropping out, the Pathways Early College Innovation School, and the Robinson-Broadhurst Foundation Career Tech Scholarship.
The second annual report includes a set of 25 data indicators representing critical student outcomes and, for the first time this year, an action guide that focuses on three areas where data indicate the need for further reform: setting a strong foundation in early childhood, attending to the whole child with comprehensive supports, and preparing college-ready students through innovative high school designs.
The action guide focuses on existing programs that could, if brought to scale, lead to substantial progress in educational outcomes for students. Mount Wachusett Community College was showcased as a model for policymakers and practitioners.
"The Condition of Education project offers a platform for constructive dialogue among stakeholders about the most effective strategies to promote student success," said the center's Executive Director Chad d'Entremont. "Through this report, the Rennie Center brings together thought leaders to develop a shared understanding, grounded in evidence, of the state of our educational system. We are excited to shine a light on the great work that Mount Wachusett is doing to contribute to positive outcomes for Massachusetts students."
"Dual enrollment programs expand academic opportunities and open doors to higher education for teenagers," said MWCC President Daniel M. Asquino. "Our programs cover a wide spectrum – including programs that restore excitement in learning for students who feel disengaged from the traditional high school experience, to those that help students accelerate the pace of their studies to get an early start on their career goals. We are delighted to partner with the Rennie Center to share our best practices with communities across the commonwealth."
The report was released during a forum on Jan. 22 in Boston. Speakers included Massachusetts Secretary of Education James Peyser, Dr. Andrew Hargreaves of the Lynch School of Education at Boston College and author of The Fourth Way: the Inspiring Future for Educational Change.
Building upon its successful Gateway to College program, MWCC partnered with the Mahar Regional School District to launch the Pathways Early College Innovation High School in. Students with a GPA of 3.0 enroll during their junior year and earn a high school diploma and an associate degree simultaneously. The program focuses on high-achieving students, and recruits a largely low-income, first-generation population that might not attend college without this opportunity. The Pathways school draws on a variety of public and private funds, including district school-choice funds, to remain sustainable.
In partnership with Winchendon Public Schools, high school students can opt into a one-year, full-time dual enrollment program that features career-oriented options, such as health care, information technology, accounting or computer science. Funded by the Robinson-Broadhurst Foundation, this program lets students earn their high school diploma and an academic certificate simultaneously, which can be applied toward an associate degree. The Rennie Center report notes that these are popular choices for students who are eager to complete a two-year degree or a work-based certification and enter the workforce quickly. Students are provided with private foundation scholarships from the Robinson-Broadhurst Foundation to cover the costs associated with coursework.
MWCC has also expanded on its college transition offerings in other ways as well, the report notes. As a solution to remediation, the college administers the Accuplacer math and English placement tests to all juniors in nine partner high schools. In addition, MWCC faculty collaborate with high school faculty to develop rigorous and targeted 12th grade math courses to prepare all students to enter directly into credit-bearing coursework upon graduation. Fitchburg High School, Leominster High School, Leominster High's Center for Technical Education Innovation and Montachusett Regional Vocational Technical High School participate in this Math Modeling initiative, with a planned expansion to an additional two to three high schools in the 2015-16 school year.
The Rennie Center was launched in 2002 by then-Secretary of Education Paul Reville as a division of the Massachusetts Institute for a New Commonwealth (MassINC). In 2005, the Rennie Center became an independent non-profit organization committed to addressing the critical challenges of reforming education in Massachusetts. For more information and to view the report, visit www.renniecenter.org.