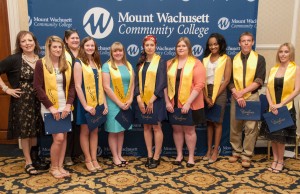 Mount Wachusett Community College celebrated the academic accomplishments of extraordinary students at the annual Evening of Excellence awards dinner May 15 at the Doubletree Inn, Leominster. The students were honored with prestigious awards not only for their performance inside of the classroom, but for their contributions in the community as well.
In addition to curriculum awards and other recognitions, the MWCC Foundation presented a number of awards during the ceremony. The foundation has awarded $260,000 in scholarships during the 2013-2014 academic year.
To view photos, click here.
The following awards were presented:
OUTSTANDING ACHIEVEMENT AWARDS
All USA Academic Team Nominees: Bryan Sanderson and Kathleen Craigen
Visions Program Award: Monica Medeiros
RX Award: Tasey Chartier
Best of English 101: Asia Traffie, Leah Trudeau and John Mossey
Sandy Signor Award: Heidi Lupien of Gardner
Jean Tandy Award: Dylan Safford
2014 Newman Civic Fellow Award: Kathleen Matson
Service Learning Scholarship: Roxanna Figueroa and Bryan Nolan
CURRICULUM AWARDS
Art: Thomas Hill and Melissa Agin
Automotive Technology: Benjamin Brookman
Biotechnology/Biomanufacturing: Laura Calix
Broadcasting and Electronic Media: Tiffianie LeBlanc
Broadcasting and Electronic Media – Photography Option: Samantha Skinner
Business Administration Career: Nina Margand
Business Administration Transfer: Carly Mongeau
Clinical Laboratory Science: Casey Gallant
Complementary Health Care: Paul Campbell
Computer Graphic Design: Jennie Laronga
Computer Graphic Design – Web Concentration: Sara Dwelly
Computer Information Systems: Kendra Killian
Criminal Justice: Elizabeth Reiser
Dental Hygiene: Lauren Phillips
Early Childhood Education Career: Paula Rocheleau
Early Childhood Education Transfer: Rachael O'Neil
Fire Science: Zechariah Matson
General Studies: Amanda Woods
Human Services: Bryan Sanderson
Liberal Arts & Sciences: Erin Leamy
LPN to ADN Bridge: Cory Berndt
Medical Assisting: Kelsey Toomey
Natural Resources Technology: Seth Pease and Angela Wyman
Nursing: Lani Cabral and Krista Shell
Paralegal: Heather Rick
Physical Therapy Assistant: Alissa Zbikowski
MWCC FOUNDATION, INC. AWARDS
Alumni Scholarship: Linda Patterson
Barbara Chaplin Memorial Scholarship: Caroline Flagg
Barnes & Noble Scholarship:  Rachel Kalagher, Briana Cullins and Sarah Croce
Carl Tammi Award: Bryan Nolan
Carrie Progen Memorial Scholarship: Leandro Lopez
Craig Hamel Scholarship: Pranee Terry
Edith Baldyga Scholarship: Caroline Flagg
Ellen Daly Dental Hygiene Scholarship: Tasey Chartier
James D. Murphy Scholarship: Jillian Johnson
Jonathan C. Craven Scholarship: Amanda Gorrell
John Burton Award: Shane Williams and Melissa Agin
Joseph B. Ruth Scholarship: Eveliz Rivera-White
Joseph S. Baldyga Veteran's Fund: Michael Feeley
H. Marilyn Kiosses Scholarship: Katelynn O'Brien
Melissa Herr Marsh Scholarship: Jessica Johnson
Michael & Christine Greenwood Business Scholarship: Marissa Lacruz
Millie McGuire Foundation: Sandra Bushey
Mount Observer Scholarship: Tiffianie LeBlanc
Nashoba Valley Healthcare Fund: Jane Crowley and Julie Sullivan
Robert Weibel Scholarship: Jennifer Potvin
Robert H. Gilman Memorial Scholarship: Suellen Dias
Roberts Scholarship: Micaiah Bushnell
Sara Kajel Award: Lindsay Howard
Sharyn Rice Scholarship: Moises Ramos
MWCC Veteran's Memorial Scholarship: Bryan Sanderson
MEMORIAL AWARDS
Aspasia Anastos Award: Yamileyka Rojas
Judge Moore Award: Seth Pease and Heather Rick
Peter J. Trainor Leadership Award: John Day
HONORS SOCIETY RECOGNITION
Alpha Beta Scholarship: Mary Burns and Kathleen Matson
Honors Program: Lourdes Abreu; Heather Rick; Nicole Pippert; Amanda Woods; Cory Berndt; Tiffianie LeBlanc; Seth Pease; Jessie Bigwood; Sara Dwelly; Sara Holloran; and Lisa Ray