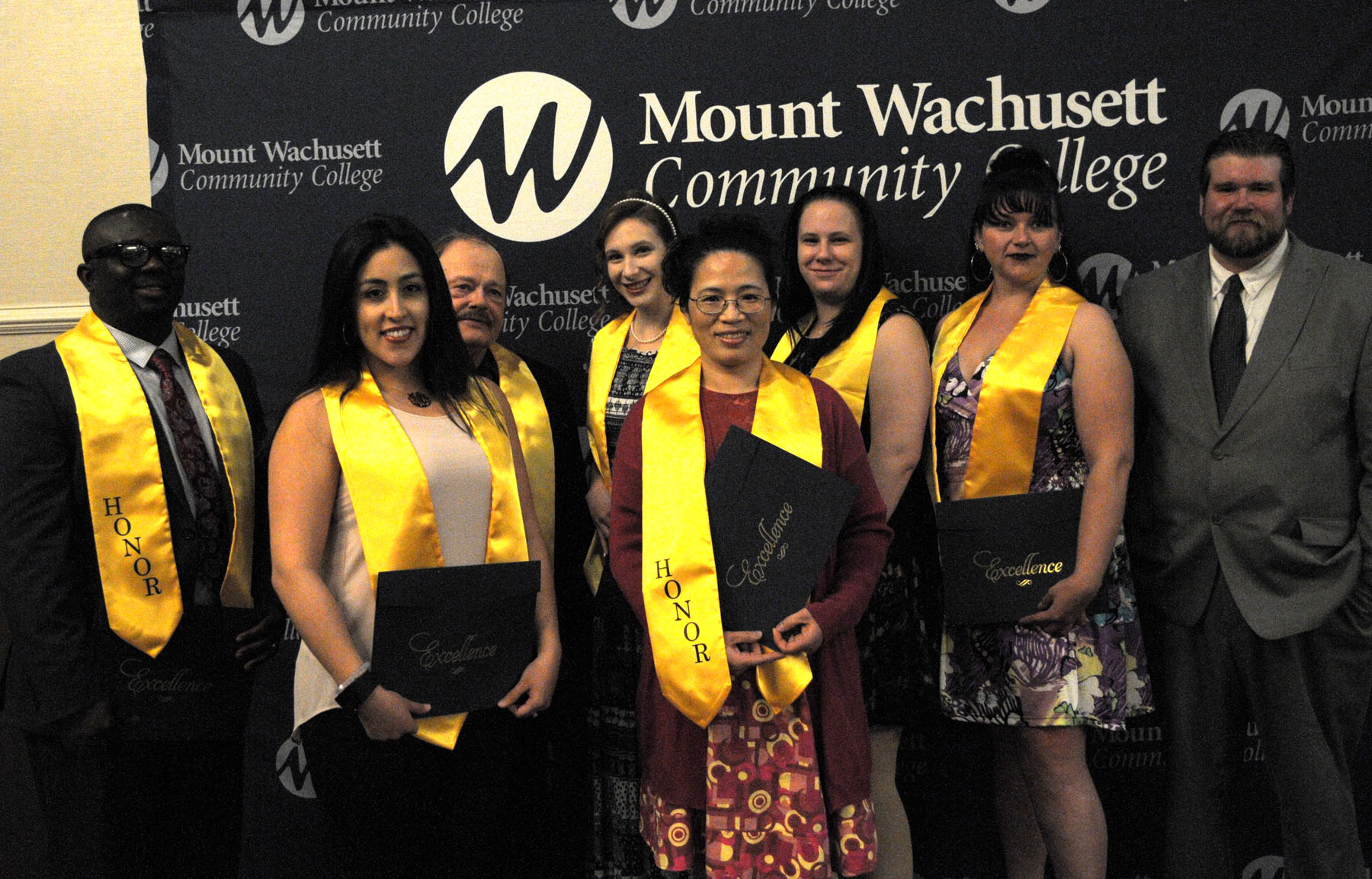 MWCC celebrated the academic achievements of extraordinary students during its annual Evening of Excellence awards dinner May 12 at the DoubleTree by Hilton, Leominster. Students were recognized for their academic performance as well as for their contributions in the community.
President Daniel M. Asquino congratulated the honorees on their accomplishments. "You are humble, you're engaged, you care, you're involved. I am really inspired and encouraged about where you are going in the world."
In addition to college curriculum and outstanding achievement awards, the MWCC Foundation also presented a number of memorial awards and scholarships during the ceremony. The foundation has awarded more $300,000 in scholarships this year.
The following awards were presented:
OUTSTANDING ACHIEVEMENT AWARDS
All USA Academic Team Nominees: Chelsea L. Garrity and Jana C. Murphy
Visions Program Award: Megan E. Bernard and Michel L. Cocuzza
RX Award: Elizabeth J. Fogle
Best of Mathematics: Chandler Guiffre
Sandy Signor Award: Meaghan K. Bruce
Sharyn Rice Award: Michel L. Cocuzza
Jean Tandy Award: Alannah M. McDonald
2016 Newman Civic Fellow Award: Rafaela O. Lopes
Service Learning Scholarship: Bonnie Veilleux and Tatjana I. James
CURRICULUM AWARDS
Accounting Concentration: Silvana Sosa
Automotive Technology: Bjarne W. Hansen
Biological Science Track: Benjamin Spurr
Biotechnology/Biomanufacturing: Sarah S. Tuomala
Business Administration Career: Angelique Chaput
Business Administration Transfer: Mellissa S. Richard
Chemical Science: Bella Ballin
Communications Track: Melissa Bobka
Computer Information Systems: Jonathan Inman
Complementary Health Care: Diane Polewarczyk
Criminal Justice Corrections: Emily S. Jillson
Criminal Justice Law Enforcement: Jared Racette
Dental Hygiene: Alyssa B. Adoretti
Early Childhood Education Career: Emily C. Wuoti
Early Childhood Education Transfer: Elizabeth Hart
Elementary Education: Chelsea M. Gentile
Exercise and Sports Science: Ashley Hamel
Fire Science Technology: Michael J. Gadbois
General Studies: Lorraine S. Desjean
Graphic & Interactive Design: Thomas P. Hill Jr.
Health Information Management: Linda G. Coyne
Human Services: Amanda D. Favreau
Interdisciplinary Studies: Christopher Stefanski
Interdisciplinary Studies – Allied Health: Amanda L'Ecuyer
Legal Studies: Denise A. White
Liberal Arts & Sciences: John Blombach
LPN to ADN Bridge: Rebecca A. Daniel
Media Arts & Technology: Jacob M. LaFreniere
Medical Assisting: Kristen M. Mauro
Medical Laboratory Technology: Rebecca M. Gleason
Natural Resources: Rebekah Amburgey
Nursing: Casandra L. Brisson and Mercy T. Dhliwayo
Physical Therapist Assistant: Sandra C. Lefferts
Physics or Pre-Engineering Track: Chandler Giuffre
Theatre Arts Track: Kevin W. Figueroa
MWCC FOUNDATION, INC. AWARDS
Alumni Scholarship: Bella Ballin
Barbara Chaplin Memorial Scholarship: Ashlie Visco
Barnes & Noble Scholarship: Dillon T. Hammond and Benjamin Spurr
Carl Tammi Award: Andre Berberena
Carrie Progen Memorial Scholarship: Kayla Arianna Shabo and Tiana L. Bean
Craig Hamel Scholarship: Breana L. Keegan
Ellen Daly Dental Hygiene Scholarship: Casey Bedingfield and Leah Trudeau
Father Adamo Scholarship: Amanda D. Favreau
James D. Murphy Scholarship: Thomas Berger
Jonathan C. Craven Scholarship: Kimberly A. Cook
Joseph Baldyga Scholarship: Jason R. Catalano
Joseph B. Ruth Scholarship: Robin A. Wead
Keith Nivala Award: Kyle M. Morneau
Marilyn Kiosses Scholarship: Cassandra R. Pateneaude
Melissa Herr Marsh Scholarship: Stacy L. Riel-Rigiero
Michael & Christine Greenwood Business Scholarship: Angelique Chaput
Mount Observer Scholarship: Stevie LaBelle
MWCC Veteran's Memorial Scholarship: Nicholas A. DePaula
MEMORIAL AWARDS
Aspasia Anastos Award: Edward J. Santos
Judge Moore Award: Chelsea Garrity (Academic Excellence) and Emily Lemieux (Excellence in Writing)
Peter J. Trainor Leadership Award: Michel L. Cocuzza
Roberts Scholar: Kimberly A. Cook
HONORS SOCIETY RECOGNITION
Alpha Beta Scholarship: Michel L. Cocuzza and Kimberly L. Mertell
Honors Program Graduates: Kwadwo D. Acheampong, Victoria R. Allen, John D. Blombach, Jamie J. Grant, Stevie LaBelle, Yanjun Li, Jenna M. McCann, Diane Polewarczyk and Calvin C. Seppala